Advancements in laser fractional resurfacing have made acne scar improvement more effective with its ability to treat scars without damaging surrounding skin and tissue. This procedure has become a top choice for patients looking to reduce the appearance of unsightly acne scarring with minimal discomfort and downtime.
How Does Fractional Resurfacing Treat Acne Scars?
As the name suggests, fractional resurfacing relies on focused beams of laser energy that target a fraction of the skin. The laser energy creates microscopic columns in the skin at precise depths while leaving surrounding tissue completely unaffected.
A fractionated Ultrapulse CO2 laser is one popular fractional laser that encourages collagen renewal. The new collagen rebuilds the skin, restoring volume to areas hollowed by acne and smoothing out the skin's appearance.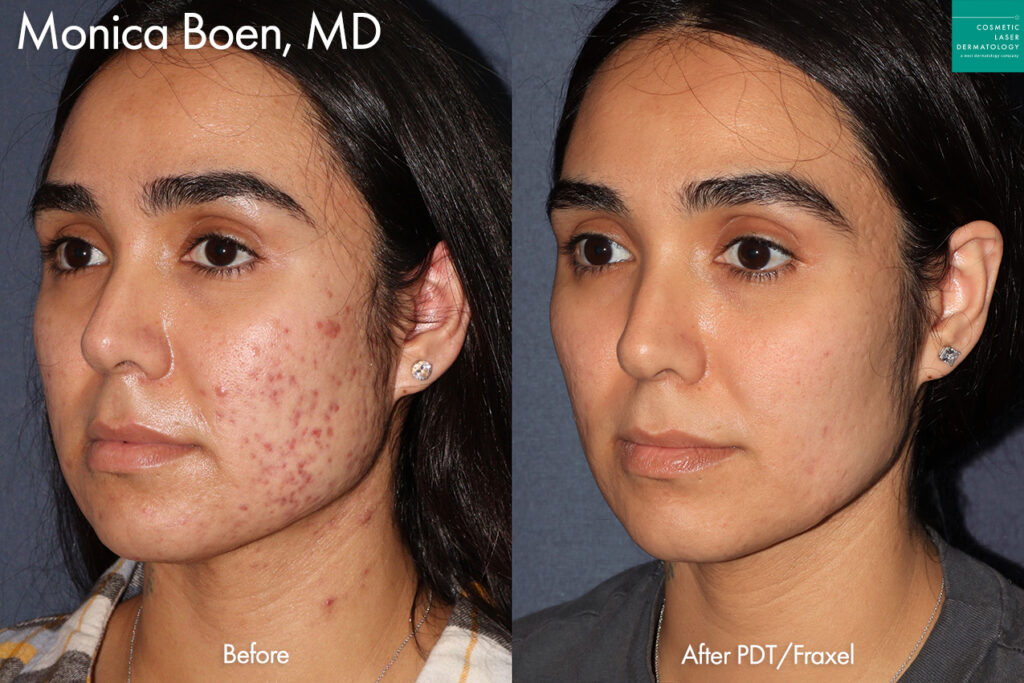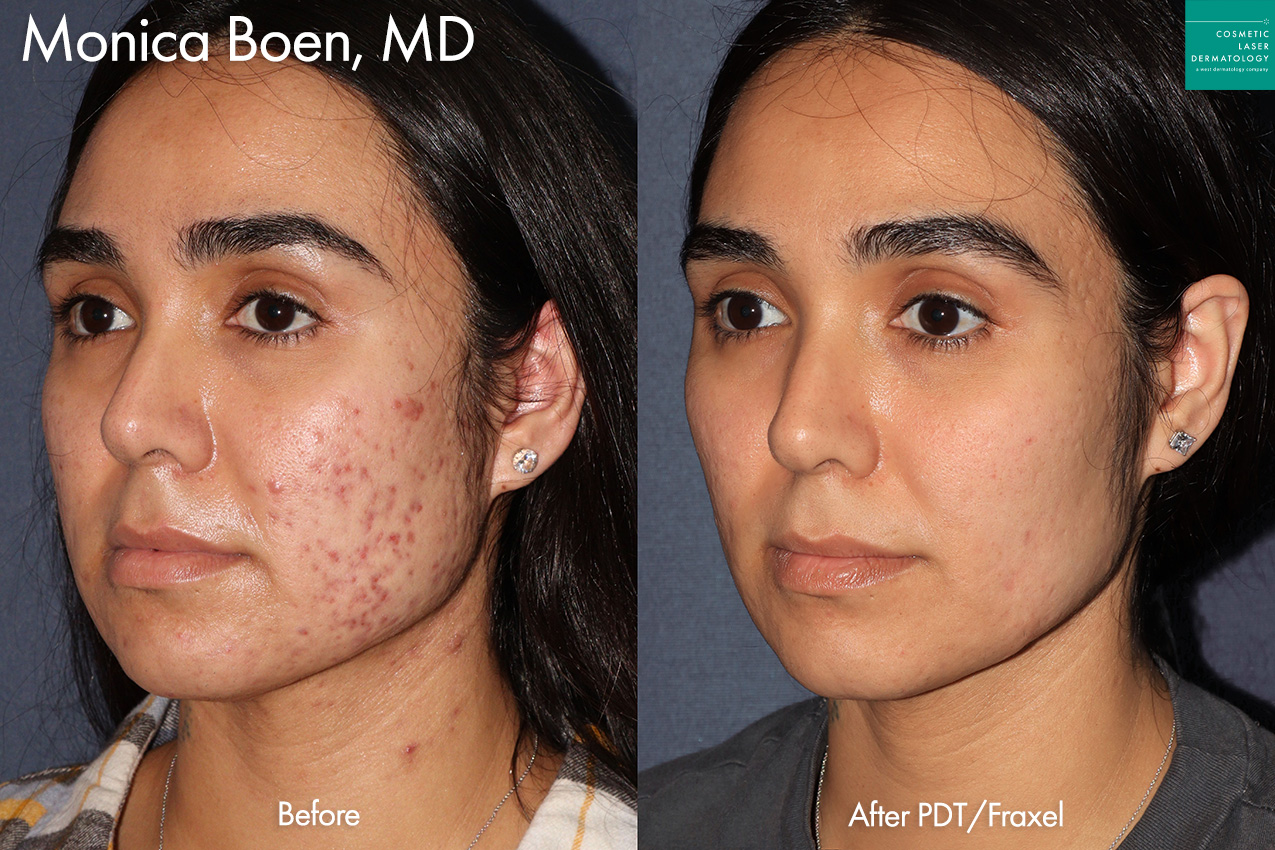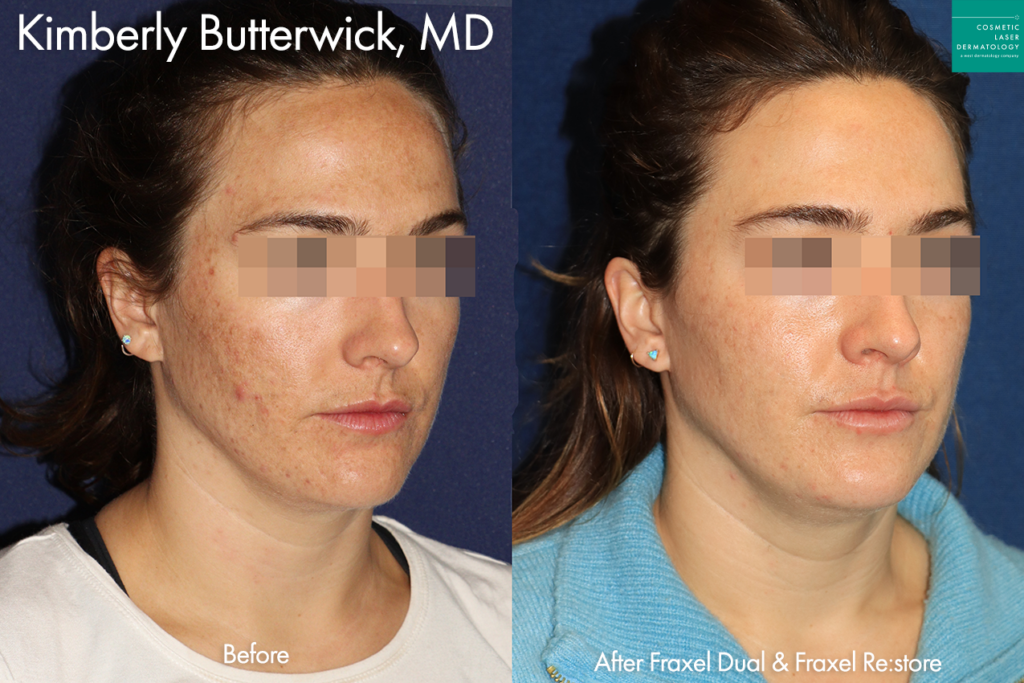 What Are Some of the Benefits?
Fractional laser resurfacing is a safe and effective acne scar treatment that provides patients with the following benefits:
Quick procedure that takes about 30 minutes or less to treat the entire face
Excellent and long-lasting results
It is a non-invasive procedure: no injections, incisions, or general anesthesia are required.
It is a quick procedure: a Fraxel resurfacing procedure takes about 30 minutes or less to treat the entire face.
It has minimal recovery time: you can resume normal activities immediately, though some people take a week of social downtime until peeling and redness resolve.
It provides excellent and long-lasting results: you'll achieve smoother-looking skin in just one session, and for several months after your procedure, collagen and elastin levels continue to increase, producing firmer and more youthful skin. Maintaining a solid skincare regimen and a healthy lifestyle help prolong results too.
What to Expect During Your First Treatment
Before your fractional resurfacing laser treatment, the treatment area will be cleaned, and a topical numbing cream will be applied to ensure a more comfortable experience. You'll wear protective goggles while a board-certified dermatologist rolls a laser wand over your face to deliver the designated laser energy and performs multiple passes over each zone. You will feel bursts of heat and a slight stinging sensation. The laser's integrated cooling helps protect and comfort the skin throughout. Treatment time can take 15-30 minutes, depending on the treatment area size and the depth of your skin condition being treated.
Comparing Fractional Resurfacing with Other Acne Scar Treatments
We offer the following acne scar treatments in our San Diego office:
Radiofrequency (RF) Microneedling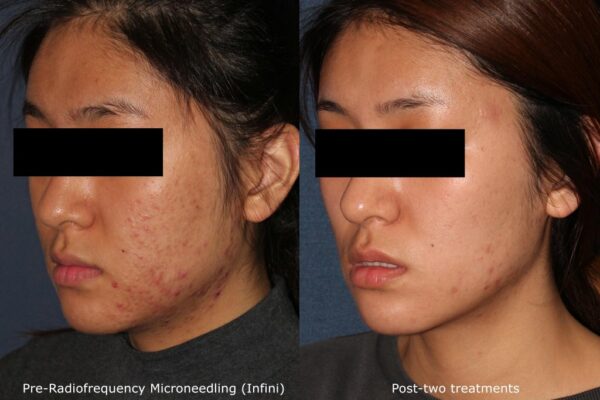 Rather than using laser energy, RF microneedling utilizes radiofrequency energy combined with ultra-fine needles that create tiny channels in the skin's surface. These micro-channels activate the skin's natural wound-healing properties while the needles deliver RF energy to heat the deeper layers of the dermis and increase collagen and elastin production.
Potenza™ RF is Cosmetic Laser Dermatology's newest RF microneedling device that offers four RF modes for enhanced penetration and a more customizable treatment for rejuvenating the skin and reducing the appearance of acne scars.
Dermal Fillers
Dermal fillers are injectable treatments that provide quick improvement for some types of acne scarring. Bellafill® is FDA-approved for the correction of depressed acne scars. When injected, it provides instant volume to the skin, lifting and adding plumpness to improve the appearance of acne scars. Unlike other dermal fillers that are eventually metabolized by the body, Bellafill is composed of nonabsorbable microsphere collagen that stimulates collagen growth for long-lasting results.
Other fillers like Juvéderm®, Restylane® or Sculptra® can also be used to treat acne scars by smoothing indentations at the surface of the skin.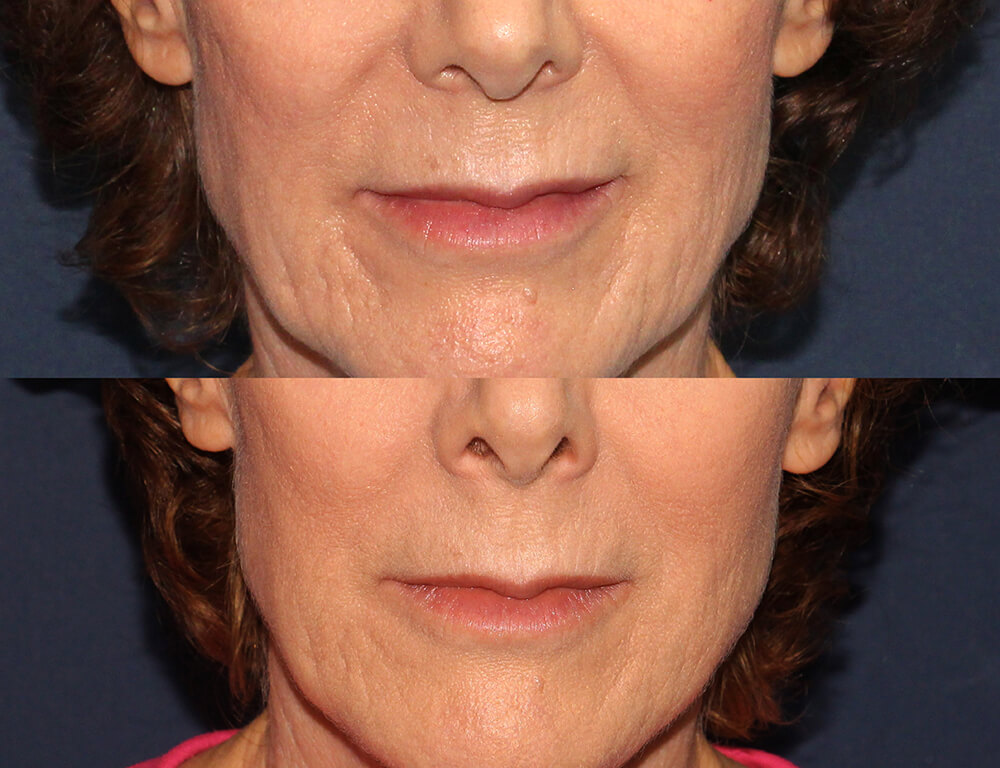 Photodynamic Therapy
Photodynamic therapy uses a topical medicine or photosensitizing agents that are activated when exposed to a certain type of light. A selection of four precise wavelengths of lasers (PDL, IPL, Blue Light, and Red Light) are applied directly to the acne lesions and scars. This activates the photosensitizing agent, which treats both acne and acne scars.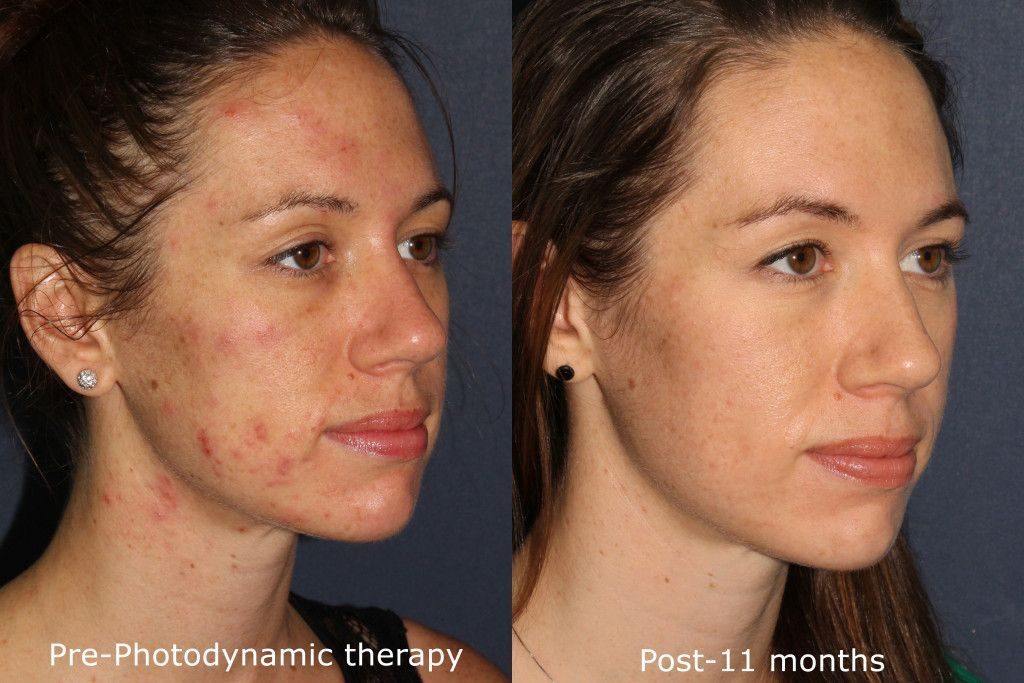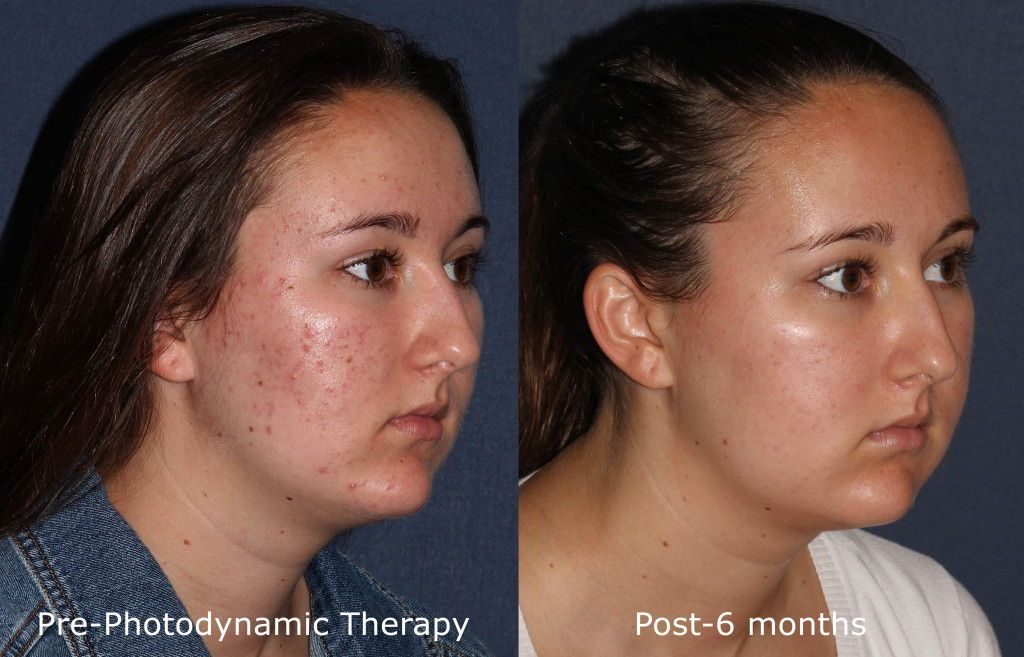 Subcision
Subcision is a minor surgical procedure recommended for those who have depressed acne scars. The procedure involves removing the fibrotic scar tissue so that it no longer pulls the skin downward. It reshapes the scar by lifting the skin and creating a smoother appearance.
Subcision only works on depressed acne scars, like rolling scars, and is not effective for hypertrophic or keloid scars.
There are many cosmetic procedures to choose from for treating acne scars. You and your dermatologist will discuss the best options for your acne scars, and the best treatment or combination of treatments will depend on your skin condition and your aesthetic goals.
Aftercare and Recovery Following Fractional Resurfacing for Acne Scars
Recovery after fractional skin resurfacing typically involves redness and swelling during the first 2-3 days, followed by 2-3 days of flaking. You might need 2-3 days of social downtime until your skin visibly improves.
To protect the skin and support the healing process, patients should:
Avoid sun exposure (always wear sunscreen)
Avoid partaking in activities that heat the skin, such as going in a hot tub/sauna or strenuous exercises for 2 days after treatment.
Avoid scrubs, toners, glycolic acid, retinoids, hydroquinone, and other skincare products that might aggravate the skin.
Keep skin well-moisturized. We will recommend professional skincare products that promote healing and enhance your results.
At Cosmetic Laser Dermatology in San Diego, our board-certified dermatologists and acne experts have training and experience in using a wide range of laser and energy devices and dermal fillers to reduce the appearance of scars. We have also been involved in research exploring the efficacy of fractional resurfacing for the improvement of acne scars.
Cosmetic Laser Dermatology is proud to be San Diego's #1 destination for beautiful skin for over 35 years.
With 80+ treatment options, 60+ laser and light devices, and 5+ proprietary procedures, our board-certified dermatologists can provide natural-looking results for every skin type and concern using treatments backed by science. To determine if fractional laser resurfacing for acne scars is right for you, contact us to schedule a consultation.