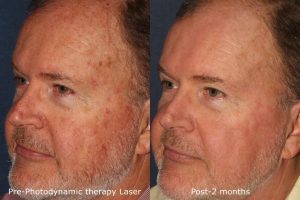 It is national UV Awareness Month, and we at Cosmetic Laser Dermatology would like to take a moment to remind our patients about the importance of protecting your skin from UV rays. UV rays have a number of harmful side effects, ranging from the development of dark spots to skin cancer. However, it is fairly easy to protect the skin from these harmful rays: simply make sure to wear sunscreen every day, reapplying as necessary, and stay in the shade as much as possible during especially bright days. Hats are also a good idea, as they protect the top of the head as well as the face from the sun.
Skin Cancer
Skin cancer is the number one most common type of cancer in America, despite the fact that it is also the easiest to guard against. There are many different types of skin cancer, with melanoma being the deadliest. However, even melanoma can be treated effectively if it is caught early enough. For this reason, it's important to have regular skin cancer screenings and to have any discolorations in the skin examined by a board-certified dermatologist. The dermatologists at Cosmetic Laser Dermatology conduct skin cancer screenings year round!
Skin cancer is most common on the left side of the body, due to sun penetrating through the car window on the commute to and from work. Many people don't bother with sunscreen if they don't think they will be outside for a significant amount of time, but sun damage accrues gradually with each exposure, including in the car. If a precancerous lesion is caught early enough, it can usually be treated with PDT, or photodynamic therapy. If the skin cancer has progressed, surgery to excise it is usually the best option. Wearing sunscreen every day, including in winter and on cloudy days, can help lessen the chances of developing skin cancer and needing to have it treated!
Sun Damage
A less deadly but nonetheless unwanted side effect of sun exposure is sun damage to the skin. Sun damage can cause premature wrinkles, age spots, and changes in skin tone and texture, making men and women look older than they actually are. Sun damage begins at an early age but doesn't usually manifest itself until the thirties or later. Protecting the skin from a young age can slow the progress of sun damage, but if a patient was lax about skin protection and ended up with damage, there are means of treating it.
Laser skin resurfacing is a great way to reduce the appearance of dark spots on the face and chest, while dermal fillers and neuromodulators can help with the appearance of wrinkles. IPL, or intense pulsed light, is a popular treatment for sun damage as it reduces dark spots while evening overall skin tone and texture as well. Your expert dermatologist at Cosmetic Laser Dermatology in San Diego will be able to formulate a custom treatment plan for your individual skin concerns, as well as create an at-home skin care regimen for long-term care.
Schedule a Sun Damage Consultation with Cosmetic Laser Dermatology
If you have sun damage or a suspicious-looking spot that you think might be cancer, don't hesitate to contact the expert dermatologists at Cosmetic Laser Dermatology. To learn more about sun damage and skin cancer as well as schedule your consultation, just call (858) 943-2113 today!