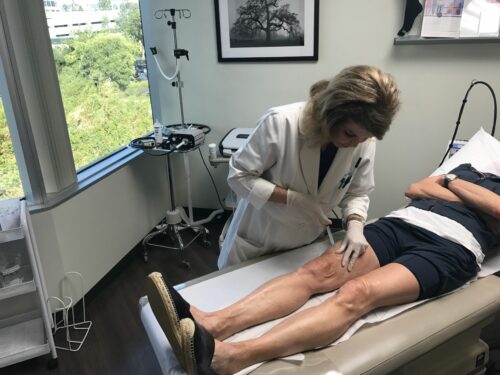 At Cosmetic Laser Dermatology in San Diego, our board-certified dermatologists use several cutting-edge techniques in order to remove unsightly face, chest, hand, and leg veins. Two of the most innovate vein removal procedures that are typically utilized to treat leg veins are sclerotherapy and phlebectomy. While the two vein treatments both produce incredible results, they are very different procedures and our expert doctors are able to determine which treatment is the most ideal for each patient.
What is Sclerotherapy?
Sclerotherapy is a revolutionary non-surgical vein treatment that has proven to be very safe and effective in treating spider veins and varicose veins in the hands and legs. Sclerotherapy involves injecting a sclerosing agent into the feeder vein in the hand or leg. The feeder vein is responsible for smaller veins breaking away and becoming visible. Once injected into the feeder vein, the sclerosing agent tears down the inner lining of the unwanted vein which allows the body to absorb it. Patients experience noticeable results immediately following their treatment session and the medicine continues to work over the next two months. Dr. Goldman is highly regarded as a leading expert on the subject of Sclerotherapy and authored one of the most popular medical textbooks on the subject! Patients who visit Cosmetic Laser Dermatology to treat their varicose and spider veins in San Diego can trust that they are in the best of care!
What is Phlebectomy?
When large and bulging varicose veins that are wider than a finger start to appear on the legs, then a phlebectomy is recommended as the best course of action to eliminate them. A phlebectomy, also known as an ambulatory phlebectomy, is a minimally invasive procedure to surgically remove large varicose veins from the legs. After delivering an anesthetic directly to the veins, our expert doctors make extremely small incisions around the varicose veins and then remove them from the leg. When undergoing a phlebectomy, our doctors may also utilize Sclerotherapy or the CoolTouch CTEV laser in order to achieve the most optimal results. There is very little downtime for this procedure and patients can see noticeably smoother, younger-looking skin after only a few weeks!
Who Should Perform Sclerotherapy and Phlebectomy Treatments?
Vein removal procedures, such as sclerotherapy and phlebectomy, should only be performed by board-certified doctors who are highly trained and experienced with vein treatments. At Cosmetic Laser Dermatology in San Diego, our expert dermatologists are vein removal specialists who have successfully treated thousands of patients over the years. Dr. Goldman and Dr. Fabi are internationally recognized as pioneers in the field of vein treatment and they continue to provide patients with superior quality care. It is important that patients seek only the best when it comes to their vein removal treatments in order to reduce the risk of complications and to see the most incredible results.
Schedule a Vein Treatment Consultation in San Diego Today!
If you are embarrassed about trying to cover up your unattractive spider and varicose veins, don't hesitate to contact Cosmetic Laser Dermatology in San Diego! Our world-renowned vein experts are ready to help you achieve younger and healthier looking skin today! Call our office at (858) 943-2113 to schedule a consultation with our expert dermatologists!
Next, read about How You can Overcome an Aging Chest.