How often do you think about protecting the skin on your neck and chest? We are usually very aware of protecting our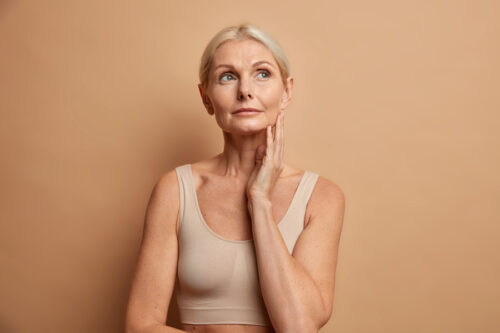 face by applying sunscreen and makeup, but our neck and chest tend to get just as much sun exposure, resulting in sun damage and visible signs of aging. It is important to apply sunscreen daily to all skin that is exposed, but if you are already noticing the signs of sun damage and aging appear on your chest, there are treatment options to help reverse this. Here at Cosmetic Laser Dermatology in San Diego we provide cutting-edge procedures with the highest level of care to help our patients overcome an aging chest.
Sculptra for an Aging Chest
Skin naturally loses collagen during the aging process, thus creating lax skin, fine lines, and wrinkles. Patients experiencing fine lines and wrinkles on the skin of their chest may like the results of a Sculptra treatment. Sculptra is an injectable treatment that stimulates the production of collagen to smooth out the desired area. There is no pain or downtime with a Sculptra treatment and patients typically only need 3 Sculptra sessions to see a subtle, natural-looking result that appears gradually as the body produces more collagen. The collagen replacement treatment fills in the volume lost with age to restore a youthful, rejuvenated appearance to the chest.
IPL Photofacial for an Aging Chest
For a patient with visible sun damage, such as sunspots or pigmentation problems, on the chest, he/she may be a good candidate for an IPL photofacial. The IPL photofacial, another procedure with no downtime, is a gentle, non-ablative procedure that uses broad-spectrum light to treat the damaged skin. The expert laser dermatologist adjusts the wavelength to customize the treatment for your skin type. The light penetrates the tissue it passes over and damages the sunspots or dark pigmented regions, stimulating your body's natural healing process. This results in fresh, healthy skin and a rejuvenated appearance.
Why Cosmetic Laser Dermatology for Your Chest Treatment?
The five board-certified dermatologists at Cosmetic Laser Dermatology are experts in the use of the most up-to-date and innovative injectable and laser treatments. They are well known in the field of dermatology for their cutting-edge research and skin care techniques. In fact, our very own Sabrina Fabi, MD recently appeared on Fox 5 San Diego to discuss the best treatments for an aging chest.
Contact the San Diego Skin Rejuvenation Experts for a Consultation
If you are starting to notice the visible signs of aging and sun damage on your chest, you may be a good candidate for a Sculptra or IPL photofacial treatment. These treatments are great for the busy individual as they are quick treatment sessions with no downtime. Contact Cosmetic Laser Dermatology by calling (858) 943-2113 today to schedule a consultation with the San Diego skin experts.
For more information on treating an aging chest, contact our office.
Next, learn how to Appear Younger with no Downtime.