Lines, wrinkles, and sagging skin are all inevitable parts of aging. One way that those aging signs impact your appearance is through hollowing and a sunken look in the midface.
It is also common for men and women with sagging cheeks to experience deeper lines around the nose and mouth, more prominent jowls, and rougher-looking skin.
Fortunately, help is available for all of these concerns.
By naturally restoring the youthful curve of the cheekbones, not only will you look refreshed but also more youthful. At Cosmetic Laser Dermatology in San Diego, our board-certified dermatologists customize treatments to bring our patients the ultimate in non-surgical rejuvenation.
With more than 50 laser, light, and energy devices, as well as a full range of injectable options, our medical spa can help you look your absolute best.
What Causes Sunken Cheeks?
Hollow or sunken cheeks occur as a side effect of the natural aging process. As you age, your body produces less collagen, which is an essential protein that supports the skin's structure. With collagen loss, skin begins to wrinkle, dull, and sag.
The body also loses subcutaneous fat (fat beneath the skin's surface that makes cheeks plump). Along with age-related bone loss, these factors can all contribute to the sunken appearance in the midface.
Other causes of sunken cheeks may also include:
Diet – malnutrition/excessive fat loss
Underlying illnesses and health conditions – Vascular EDS (Ehlers-Danlos syndrome), tuberculosis, lipoatrophy, eating disorders
Lifestyle habits – heavy smoking, extreme exercise, lack of sleep
How to Get Rid of Sunken Cheeks
Any type of sunken cheeks treatment is designed to rejuvenate the skin and add support to the underlying structure to boost its volume.
The best treatment for you will depend on your unique needs and aesthetic goals. The board-certified dermatologists at our medical spa in La Jolla may also recommend a combination of treatments for an optimal outcome.

Fat Grafting
Fat grafting provides facial rejuvenation by injecting fat into the face. Your dermatologist will extract fat from a donor site, often the hips, thighs or midsection, via liposuction.
Next, we process the fat in a centrifuge and place it into syringes so it can be used to fill and contour the face. While the results of fat transfers are long-lasting (generally up to 3 years), they may require a few days of downtime after the liposuction portion of the procedure.
Always work with a very experienced, board-certified dermatologist for your fat grafting procedures, as fat tends to be less predictable than filler and is not easily reversed if you don't like your results.
There are also procedures for sunken cheeks treatment that do not require downtime afterward. Your dermatologist will take the time to listen to your specific concerns and goals to determine which procedure might be best for you.
Biostimulating Agents
Sculptra and Radiesse are two biostimulatory "fillers" that are excellent for rejuvenating sunken cheeks. Both stimulate your body to produce new collagen and elastic fibers to bulk-up the depressed areas and tighten the skin.
Dermal Fillers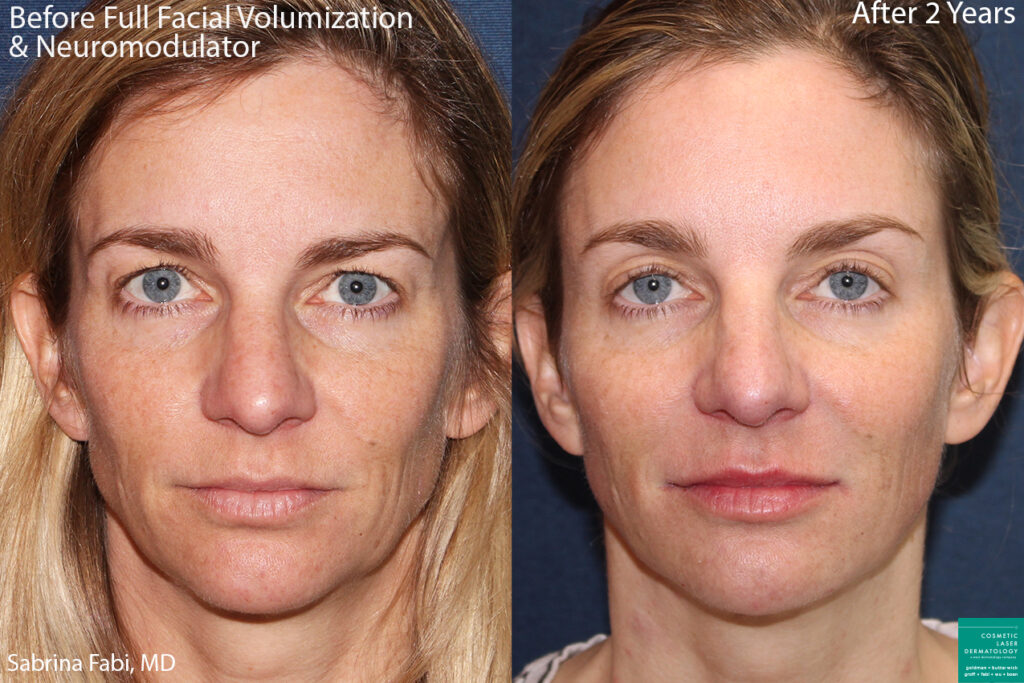 Dermal fillers are the most common treatment option for addressing sunken cheeks. Filler typically contains hyaluronic acid – a naturally-occurring substance in the body that keeps skin plump and hydrated.
One popular cheek dermal filler is Voluma XC® from the Juvederm® family of fillers. Restylane® Contour and Lyft are also good options for treating this area, as are the RHA hyaluronic acid fillers.
Your dermatologist can go over the benefits of each hyaluronic acid filler to choose what is best for your specific indication.
We can also use these fillers to minimize the appearance of nasolabial folds and smile lines that often form around the mouth as a result of volume loss. We can add filler along the cheek to lift the midface and additional filler directly in the facial folds to enhance your improvement.
We will customize your treatment to ensure you enjoy the most natural results no matter what your concerns might include. This non-surgical cheek enhancement option is an ideal choice for people who want a quick and simple treatment.
Our board-certified dermatologists have been actively involved in research studies involving Juvederm and other dermal fillers in San Diego for the last 30 years, giving us more experience with injectables than nearly any other practice in the country.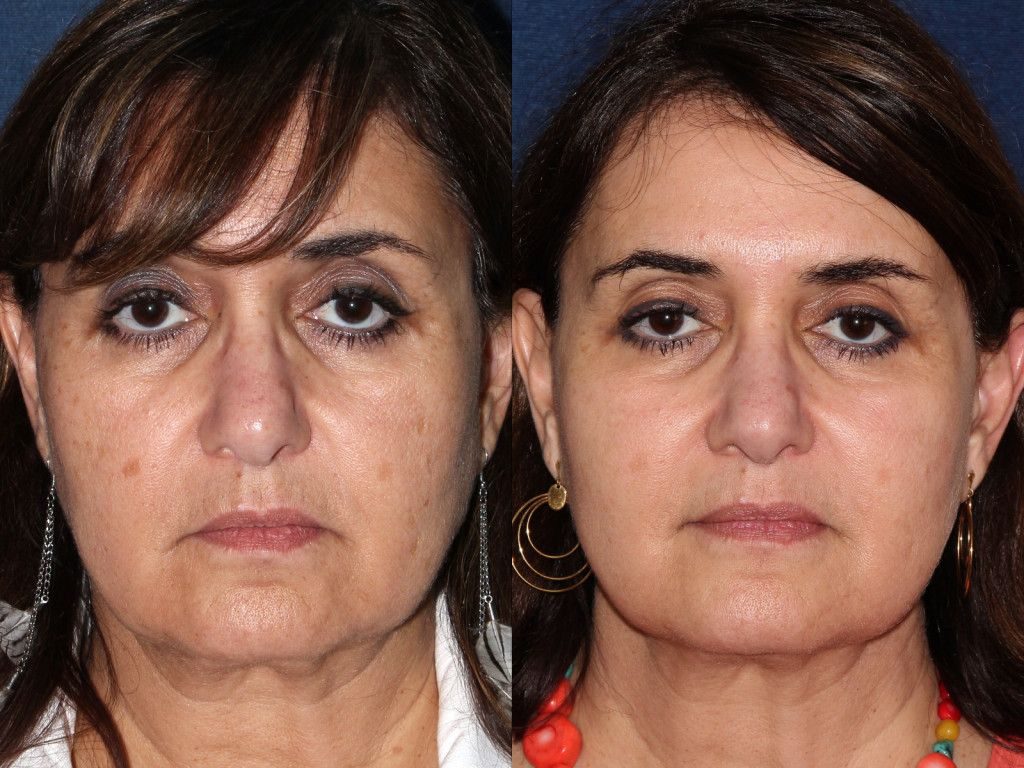 Skin Tightening Options
If skin laxity is contributing to your hollow appearance, we have non-surgical skin tightening treatments that can also rejuvenate this area.
Ultherapy and Sofwave use ultrasound technology to constrict tissue deep beneath the skin's surface and stimulate collagen production for a smoother, firmer appearance.
Thermage works in a similar fashion, but uses radiofrequency energy to produce similar tightening results. All of these treatments can be combined with fat grafting or dermal fillers to produce the best possible outcome.
Schedule a Consultation at our Medical Spa to Get Rid of Sunken Cheeks Today
We understand how sunken or hollow cheeks can affect your appearance as well as your self-esteem. To learn more about how our anti-aging treatments can restore volume and contour to this critical area of your face, schedule a consultation today at Cosmetic Laser Dermatology in San Diego.