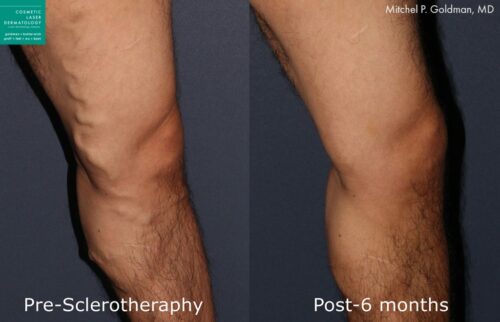 According to recent studies surrounding male cosmetic surgery, more males are seeking sclerotherapy than ever before. In the past five years alone, the number of males undergoing treatment to remove their unwanted spider veins is up more than 200%, making the treatment move to the number 2 spot on the list of most common cosmetic procedures sought by men.
In fact, additional studies by the American Academy of Cosmetic Surgery report that more men are actually seeking treatment for leg veins as opposed to hair transplants.
However, researchers remain stumped as to why the sudden increase in popularity is taking over, though some attribute it to the rising price of hair transplants and the fantastic results that are experienced from sclerotherapy after just one treatment.
At Cosmetic Laser Dermatology in San Diego, our dermatologists want to make our readers aware of the benefits that sclerotherapy has to offer.
What is Sclerotherapy?
Sclerotherapy treatment involves injecting medication into your spider veins which causes them to begin dissolving. In some cases, this is noticeable immediately, while other patients will continue to see results over the course of the next several months following the procedure.
CLDerm's own Dr. Mitchel Goldman was involved in many of the initial studies surrounding leg veins and contributed to pioneering the treatment.  The actual procedure involves one of our dermatologists injecting your leg veins with a very small needle. Depending on the severity of your veins, it's common for several injections to be necessary.
Sclerotherapy is ideal for sufferers of spider veins and varicose veins who are self-conscious about their appearance. Because spider veins actually work to draw blood away from the heart and other important body organs, many patients describe their legs as feeling much lighter after treatment because blood is able to better flow where it needs to be.
Following sclerotherapy treatment, your legs will be wrapped in compression stockings that must be worn at all times after the first week of your treatment. Patients are also encouraged to walk as much as possible, as this encourages the medication injected to flow through the veins.
When veins are too large to be diminished with sclerotherapy, a surgical procedure known as a phlebectomy may be the best course of action.
Contact Cosmetic Laser Dermatology in San Diego Today
Undergoing sclerotherapy treatment for leg veins can help you achieve youthful looking legs without the need for surgery. If you'd like to speak with a dermatologist about whether or not you'd be a good candidate for sclerotherapy treatment, contact our San Diego medical spa today by calling (858) 943-2113. Our dermatologists have the experience necessary to help you overcome unsightly spider and varicose veins with just a few treatments.