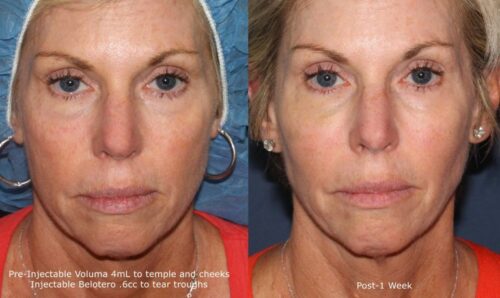 If you're interested in looking younger and more refreshed but want to achieve results that are subtle, natural-looking, and most importantly, flattering, there are several cosmetic treatments available in San Diego that are highly effective.
In the past, erasing facial wrinkles, sagging skin, and other signs of aging might have required a surgical facelift procedure, but with modern advancements in cosmetic dermatology, just a few injections of FDA-approved injectables, such as Botox or dermal fillers, can provide a natural facelift with little to no downtime necessary.
In addition to following a healthy diet and drinking plenty of water, there are numerous cosmetic injectables on the market for lifting and contouring sagging facial skin, fine lines, dynamic wrinkles, and other signs of aging.
So, if you are searching for inexpensive ways to remove facial wrinkles and laugh lines, then dermal fillers, such as Voluma by Juvederm, may be the best option for achieving a natural facelift.
Cosmetic Laser Dermatology in San Diego offers several non-surgical facelift options using injectables, like dermal fillers and Botox, that can make you look younger and more confident.
Dermal Fillers
Dermal fillers are the easiest form of non-surgical facelift treatment. The procedure is as simple as receiving a few injections by a board-certified dermatologist into specific problems areas around the face, such as the cheeks, lips, under eyes, and even the chin.
FDA-approved dermal fillers consist of natural or synthetic gel-like substances that help lift the skin and soften wrinkles, indentations, and other signs of aging that occur when the skin loses collagen and elastin over time.
Popular facial fillers, such as Juverderm Voluma, are specially formulated to target specific areas of the face. Some facial fillers use a substance called hyaluronic acid, which is a natural substance that provides moisture and buoyancy to the skin.
Hyaluronic acid is actually found in the human body, which makes it ideal for restoring lost volume while still achieving a natural facelift effect. However, as a biocompatible substance, HA fillers are gradually absorbed by the body and additional injections may be necessary.
Other dermal fillers may be comprised of synthetic, FDA-approved substances that can achieve longer-lasting results and even work with the skin's natural structures. For example, Sculptra is formulated with a poly-L-lactic acid (PLLA) collagen stimulator that not only helps restore volume and structure deep below the surface of the skin (particularly within the smile lines), it also stimulates the body's natural collagen production.
While PLLA fillers will eventually dissipate, they will have triggered collagen production that helps maintain the results of the dermal filler.
Neuromodulators
Neuromodulators, which include Botox, Dysport, and Xeomin, are a safe and innovative non-surgical option for a facelift. These injectables are designed to soften and relax specific muscles in order to reduce the appearance of wrinkles.
Botox is particularly efficient for treating fine lines around the eyes and forehead, such as 11s or worry lines, forehead creases, and bunny lines. The effect is gradual and can help prevent further wrinkles from forming due to muscles movements or tension.
Neuromodulators only provide temporary results, which may last only a few months before additional treatments are necessary.
Neuromodulators are highly-effective, but it is crucial to undergo injections by a board-certified dermatologist with years of experience and training. Not every injector can achieve the same natural-looking results with the same injectables – it takes a skilled hand to address a patient's unique skin concerns safely and effectively.
Combination Treatments
Also known as a liquid facelift, it is possible to achieve a natural facelift in one sitting using a combination of dermal fillers and neuromodulators. The acclaimed dermatologists at Cosmetic Laser Dermatology can skillfully design a liquid facelift using carefully chosen injectables based on a patient's unique needs.
For example, Botox may be used to treat static wrinkles and fine lines around the forehead and eyes, while Voluma may be used as a sunken cheeks treatment and another filler may be used to soften and conceal dark under eye circles.
With so many fillers and neuromodulators on the market, each designed to treat specific skin care concerns, a board-certified dermatologist can successfully turn back the clock on a patient's appearance in just one sitting.
The natural facelift procedures mentioned above are effective, healthy, and safe. They can help you reach your goal of looking young and beautiful. However, it is advisable that you consult with one of the San Diego dermatologists at Cosmetic Laser Dermatology in order to receive the best possible results.
Schedule a Liquid Facelift Consultation in San Diego Today
If you are looking for safe and effective natural facelift treatment, contact Cosmetic Laser Dermatology in San Diego. Our board-certified dermatologists are specialists in effective facelift treatments for a younger and more natural look. Call us at (858) 943-2113 to speak to one of our skin specialists or fill out our online contact form.