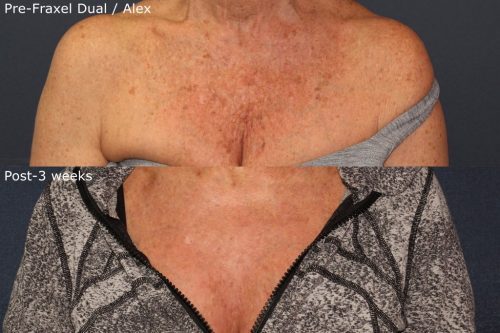 As a result of the natural aging process, sun damage, wrinkles and more, skin loses its youthful glow. But there is no reason to fret! These skin dilemmas can be fixed by a variety of treatments in San Diego, CA.
Beyond at home anti-aging skincare products that promise to erase fine lines and improve skin tone, chemical peels and cosmetic laser treatments offer more dramatic skin rejuvenation results. Both of these procedures leave patients with skin that looks and feels younger and healthier. So what's the difference between the two?
Chemical peels are perfect for those who are looking for a quick (and relatively inexpensive) way to refresh their complexion. Peels work by exfoliating the dead skin cells and stimulating new skin growth. The strength of the chemical peel depends on your needs. If you have very fine lines, you will benefit from a mild peel, but if you have more severe skin issues, you will need a stronger peel. After a peel, you will see your new, glowing skin within a week or two of your treatment!
Laser treatments can also provide excellent skin resurfacing results but often come with more downtime (and are a bigger investment). Cosmetic lasers target specific problems. For example, if you have sun damage, Fraxel treatments will get rid of your brown spots, or if you have red, blotchy pigmentation, IPL treatments are just what you need. Generally, it takes the results of laser treatments a few months to become visible, but then your skin texture will be more even and the signs of aging will disappear.
Which anti-aging treatment should you get to restore your skin's youthful glow? Schedule a consultation with one of our cosmetic dermatologists to find out!