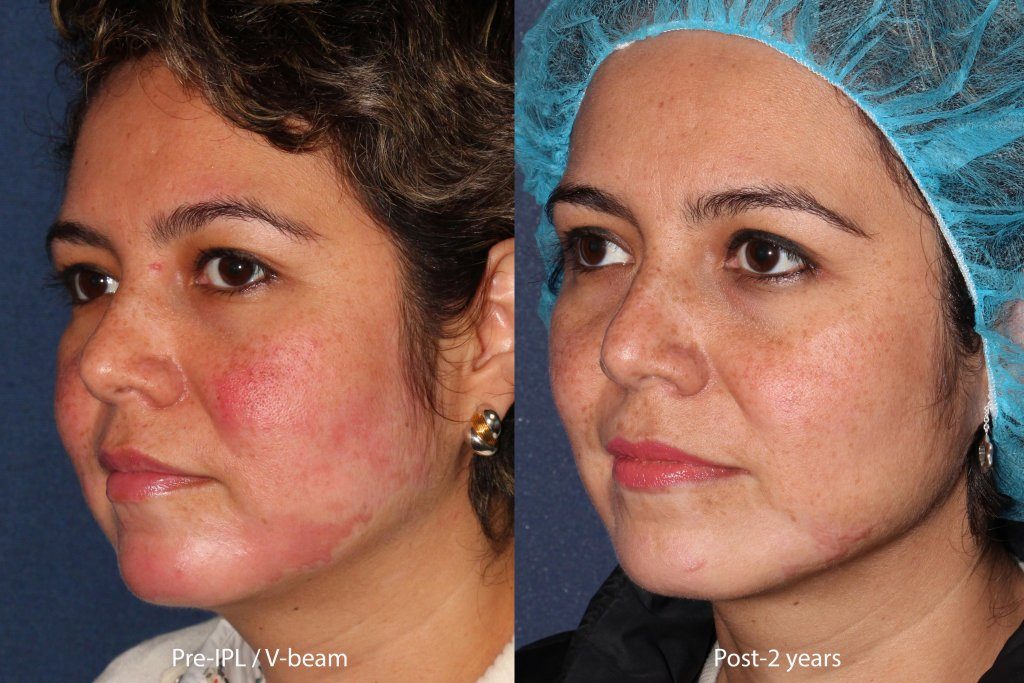 Aging of the skin results from a combination of damage from ultraviolet exposure and the intrinsic aging process. Sun-damaged skin is characterized by skin laxity, lines/wrinkles, brown spots, redness, roughness, and fine blood vessels. Here at Cosmetic Laser Dermatology in San Diego, our board-certified dermatologists commonly treat sun-damaged skin with the IPL photofacial.
What is IPL?
Intense Pulsed Light is a simple procedure that can address any and all of these concerns with no downtime. A new study has documented that when the IPL is performed once a year, after 8 years of treatment, patients look 9 years younger. Intense Pulsed Light, also known as IPL or photofacial, is a treatment that delivers a broad spectrum of light through a small, smooth transparent handpiece, which is gently placed over the skin. The light penetrates the tissue and is absorbed by, either the blood when treating vascular lesions or the melanin when treating pigmented lesions damaging them. The body's natural process then removes the injured tissue over the course of three weeks leaving the skin with a more even and youthful appearance.
Watch Dr. Groff Perform an IPL Photo Facial Treatment
The most common areas treated with IPL are the face, neck, chest, and hands. IPL treatments can improve the appearance of the following skin issues:
Freckles
Hyperpigmentation
Blood vessels
Age spots
IPL is a perfect treatment for the active person that is looking for improvement in texture, tone, pigment, redness reduction, and broken capillaries who doesn't want the associated downtime that comes with other laser treatments. The treatment only takes about 30-45 minutes during an in-office session. The treatment is generally painless, but we do apply a topical numbing agent and cooling gel to the surface of the skin prior to treatment. We recommend that you schedule an appointment once or twice a year to maintain a healthy, youthful-looking glow to your skin.
Why Cosmetic Laser Dermatology For IPL?
The board-certified dermatologists at Cosmetic Laser Dermatology in San Diego are laser treatment specialists. They own some of the most innovative and advanced lasers available in the field of dermatology and have extensive laser skin care experience. Many of our doctors have been involved in the research and development of some of the most popular skin care treatments available today.
Call the San Diego Skin Care Experts Today
If you would like to minimize the appearance of sunspots, rosacea, or improve skin texture with minimal downtime, the IPL photofacial may be right for you. Our team looks forward to helping you improve the overall appearance of your skin and take years off your appearance! Contact the experts at Cosmetic Laser Dermatology by calling (858) 943-2113 today to schedule a consultation.
To learn more about IPL, contact our office in San Diego today.
Next, learn about a New Non-Invasive Ultralift.