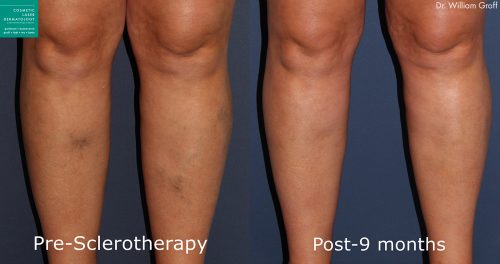 Varicose veins and spider veins can be incredibly aggravating for the millions of Americans living with them. While many feel it is just something that must be lived with, that is not necessarily the case. The board-certified dermatologists here at Cosmetic Laser Dermatology in San Diego are experts at cutting-edge leg vein treatments and recommend several options for reducing the appearance of leg veins in their patients.
What Causes Leg Veins?
Leg veins are very common and are the result of weak or damaged valves in the veins caused by a backup of blood. Any number of factors may increase your risk for developing leg veins, including, but not limited to, the following:
Sitting or standing for long periods
Pregnancy
Heart conditions
Family history
Weight gain
While leg veins can be frustrating, there are treatment options available.
Treatment For Spider Veins
If you are living with unsightly leg veins, you may want to consider trying some natural remedies. It has been suggested that taking a supplement with Vitamins C, E, and Zinc can help reduce and prevent leg veins, as well as increasing the complex carbohydrates, berries, and leafy greens in your diet. If you prefer a topical remedy, try vein-reducing creams and/or compression stockings to combat the pesky veins.
While these remedies can help reduce the veins' appearance, the most permanent solution to leg veins has proven to be sclerotherapy. Sclerotherapy in San Diego is a procedure in which an expert dermatologist injects medication into the leg veins using a very small needle, causing the veins to shrink immediately. While remarkable results are visible right away, the veins will continue to shrink and disappear over the course of a couple weeks leaving the patient increasingly satisfied. The recovery is minimal and the results are permanent.
Mitchel P. Goldman, MD, is one of the world's leading experts in sclerotherapy treatments. With the intricate nature of the vein procedure, it is crucial that you visit a specialist to treat leg veins with sclerotherapy. Dr. Goldman wrote a top sclerotherapy book that is used to train physicians around the world, meaning there is no better office to visit to get rid of unwanted leg veins than that of CLDerm in San Diego.
Contact San Diego's Expert Dermatologists to Schedule a Sclerotherapy Consultation Today
Our staff here at Cosmetic Laser Dermatology is committed to providing you with only the best treatment options available for your unique leg vein condition. If you are annoyed by those pesky leg veins and would like to discuss a solution, schedule your consultation today by calling us at (858) 943-2113. Our board-certified San Diego dermatologists are experts at cutting-edge leg vein therapies, including sclerotherapy, and would love to talk to you about your options today.
Next, learn about The Latest Liposculpture Craze, The Thigh Gap.