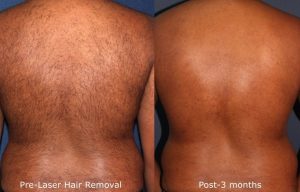 Did you know that the average amount of time a woman spends shaving in her lifetime adds up to approximately 72 days? That's a lot of hours spent doing something so tedious, which often results in nicks, bumps, and irritation. Nowadays, many women forego shaving altogether in favor of other methods, including waxing and at-home depilation creams, but the best way to reduce your unwanted hair growth may be laser hair reduction.
Laser hair removal has become extremely popular in recent years, as more and more people (men included – it's a great way to get rid of back hair!) have discovered that this method is safe, effective, and saves a lot of time and expense in the long run.
Laser hair reduction works by using laser energy to target the hair follicle itself, damaging it so that hair can't grow as easily. It takes a few sessions for the best results, as hair grows in cycles, so treatments must be precisely spaced to target the hair follicle in its different growth cycles. After each session is completed, the amount of hair on your targeted body part will be reduced, and you can spend less time shaving and more time on more worthwhile pursuits!
Next, read 5 Reasons to Choose a Sclerotherapy for Spider/Varicose Veins.