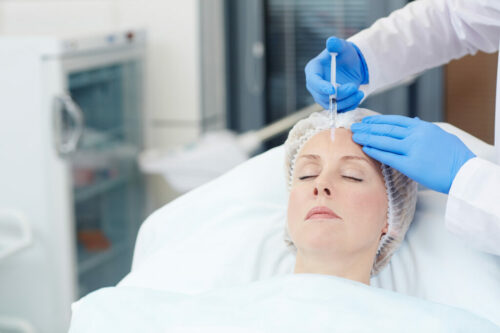 Even in our twenties and thirties, signs of aging start to appear. Though it might seem a little too early to start taking preventative skin care measures, our team of world-renowned dermatologists wants our San Diego patients to know about the several different non-invasive treatment options that work to combat some of the earliest signs of aging on our skin, including crow's feet, hyperpigmentation, nasolabial folds, and dark under eye bags.
Nasolabial Folds
Nasolabial folds can begin to appear as early as our mid-to-late twenties, and become an area of great concern for both women and men noticing them for the first time. These lines occur around the mouth near the nose and extend down. If not taken care of, these lines only get worse with time. At our dermatology practice, our doctors use hyaluronic acid fillers to combat nasolabial folds, which works to add lost volume back into the skin and diminish their appearance. Fillers like Perlane and Restylane can also replace volume and stop the aging process from continuing to further.
Under Eye Bags
Often times one of the very first signs of aging to appear is under eye bags or dark under eye circles. Even though makeup can do a wonderful job of camouflaging this sign of aging, it will unfortunately only go so far. As with nasolabial folds, facial fillers can often bring excellent results to patients wishing to revitalize their face and slow the aging process. Even in our late twenties and early thirties, under eye bags can appear, but can also disappear very quickly with non-invasive facial fillers performed by an expert San Diego dermatologist.
Crow's Feet
Fine lines around our eyes, also known as crow's feet, are one of the most frustrating parts of aging but are also extremely easy to correct. With just one office visit and with the help of Botox and Dysport, patients wishing to put an end to the crow's feet around their eyes can have the problem resolved in an instant. When injected around our eyes, Botox and Dysport work to freeze the muscles in the area, resulting in the disappearance of unwanted crow's feet. With several expert injectors on our team of cosmetic laser dermatologists, the doctors of CLDerm can help you prevent further signs of aging without requiring any additional downtime.
Contact An Expert Dermatologist Today
Beginning to show signs of aging in your twenties and thirties is extremely common, and luckily with the help of an expert cosmetic dermatologist in San Diego, battling the process is easier than ever. If you'd like to speak with us today about how we can help you overcome crow's feet, under eye bags, and nasolabial folds through various non-invasive treatments, please contact our medical practice today to schedule your initial consultation. Our board-certified dermatologists are extremely skilled in the use of various facial fillers and have a unique knowledge of lasers.