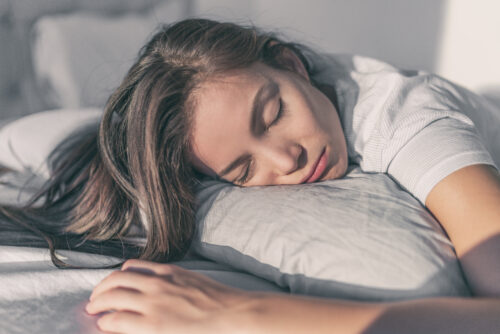 Many people love sleeping on their sides. It's comfortable and reduces snoring or sleep apnea. But did you know that sleeping on your side could be causing you to have wrinkles?
Sleep wrinkles can form on your face when it's pressed against a pillow for hours every night. Your skin gets stretched, pushed, and pulled to such an extent that Botox and other neuromodulator treatments are not effective – those types of treatments are for expression wrinkles, such as from smiling or frowning.
When you're younger, the elasticity of your skin prevents wrinkles from forming; as you age, though, wrinkles not only form, they also become permanent because of decreased skin elasticity that comes with aging; the regular and constant compression from pressing your face against a pillow as you sleep on your side serves to exacerbate the issue.
Luckily, Cosmetic Laser Dermatology of San Diego offers the best treatment for facial wrinkle reduction caused by sleeping on your side – Juvederm.
Is This the Treatment for Wrinkles You're Looking For?
Juvederm is a group of injectable dermal fillers that provide facial wrinkle treatment and line reduction for conditions caused by aging or sleeping on your side.
Juvederm wrinkle reduction products are composed of hyaluronic acid, a natural sugar found in your body, which binds to your body's natural reservoirs of water. As a result, a hyaluronic acid injection like Juvederm is effective as an under eye filler, adding volume and a smoother, more youthful appearance to your skin.
One member of this family of products is Juvederm XC, which has lidocaine, an anesthetic that can make your injections even more convenient. For deeper wrinkles and lines, Juvederm Ultra Plus has been specifically created to soften and reduce them.
Generally, regardless of which product you use, most patients need one wrinkle treatment to achieve optimal results, which last six to nine months, after which regular treatments are necessary to continue enjoying the youthful benefits of Juvederm.
Juvederm is also effective for nasolabial fold removal – that means it reduces the smile lines around your nose and mouth. It also restores fullness to your face by diminishing frown lines between your eyes and on your forehead.
Because hyaluronic acid traps water in your skin to keep volume and shape, it's also a popular plump lip treatment if you're concerned that your lips are too thin.
How Is Juvederm Such an Effective Wrinkle Treatment?
The benefits that all Juvederm products have on reducing the ravages of aging are due to the use of HYLACROSS technology, which makes the injectable filler gel smoother and more consistent. As a result, this allows the hyaluronic acid solution to be gently injected with a fine needle beneath the surface of your skin. It's such a smooth, simple process that many of our patients report that the wrinkle treatment is virtually painless.
The injected gel fills in the "unfilled" areas below your skin, giving your face more volume and a smoother appearance.
The complete wrinkle treatment procedure takes less than an hour and is minimally invasive. Furthermore, you can resume your normal schedule almost immediately. You can drive away from our office back to work or home without worrying about downtime.
What are the Side Effects of Wrinkle Treatments?
In addition to not interfering with your schedule or daily routine, Juvederm wrinkle treatment also has minimal side effects that usually disappear in less than a week.
Since the main ingredient in Juvederm, hyaluronic acid, is naturally biocompatible, your body is able to synthesize it quite easily. This results in few complications that are mild and short-lived.
If you do get side effects, common ones you should expect include slight bruising, itching, redness, swelling, and tenderness. After a week, they all should have subsided, leaving you glowing and looking more youthful!
Who Should Consider Using Juvederm?
Anyone afflicted with unwanted facial creases, lines, or wrinkles should consider this injectable filler treatment. If you're a busy person who can't afford disruptions to your life or schedule, a Juvederm treatment to remove wrinkles fits right in.
Furthermore, if you're looking for a wrinkle treatment procedure that will give you quick, natural results that continue for months, consider one of the Juvederm lines of products.
Lastly, are you seeking minimally invasive, virtually painless facial wrinkle reduction? Then Juvederm could be a great choice for you.
Schedule a Wrinkle Reduction Consultation Today!
Changing how you sleep – or the positions in which you sleep – is difficult. If you enjoy sleeping on your side, it's hard to change that habit. It's your body's natural way of getting rest.
However, the pressure put on your face from your pillow will continue to cause lines and wrinkles as you age. That's why consistent Juvederm wrinkle treatments once every nine months or so might be a good solution for you. It might be the temporary but effective smile line filler you've been looking for.
Contact Cosmetic Laser Dermatology today to discuss your unique situation and find the best wrinkle treatment and skin care possible! To find out or schedule a consultation, call (858) 943-2113!
Next, learn how you can take 10 years off using this one treatment.