Many people are swearing by the positive skin-rejuvenating benefits of RF microneedling treatments, and thanks to the latest advancements in cosmetic technology, there are many devices, such as Morpheus8 and Potenza RF, to choose from.
At Cosmetic Laser Dermatology in San Diego, we offer Potenza RF microneedling, the latest radiofrequency microneedling treatment that brings the skin back to life, helping it look tighter, brighter, and more youthful. Below, we'll let you see how Potenza RF stands against Morpheus RF to help you make the better choice.
The Technology Behind Morpheus RF and Potenza RF Microneedling Devices
Regardless of the device name, RF microneedling devices rejuvenate the skin by using ultrafine needles to create superficial micro-injuries to encourage collagen production and deliver radiofrequency energy deep in the skin to produce a more robust response. This speeds up the body's natural healing process and increases collagen and elastin levels. In essence, RF microneedling combines two already effective treatments to create a more powerful procedure.
Targeted Skin Concerns: What Can Morpheus RF and Potenza RF Address?
Both Morpheus8 and Potenza RF address the following common signs of aging:
Fine lines and wrinkles
Irregular skin tone and texture
Enlarged pores
Scars
Skin laxity
Stretch marks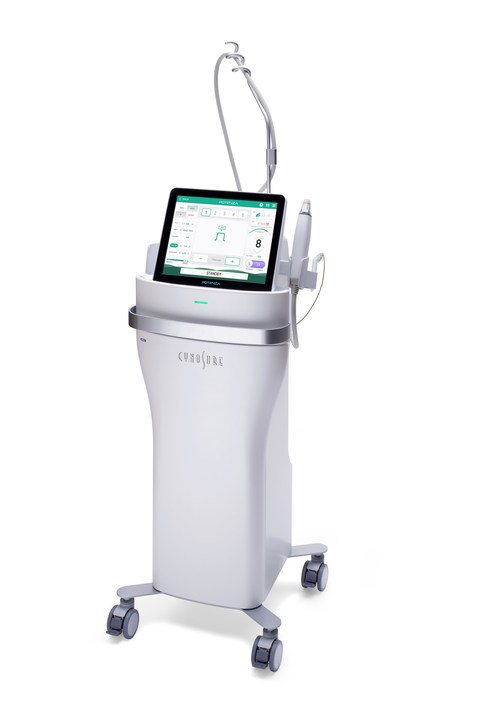 What to Expect During Treatment
A Potenza RF or Morpheus RF treatment session begins with cleaning the treatment area. Topical numbing cream will be applied to minimize discomfort and ensure a more comfortable treatment experience. Then, your board-certified dermatologist uses a handheld device and utilizes a gentle stamping technique on the treatment area. Ultrafine needles work with RF energy to penetrate the skin and trigger the body's healing process. You will feel slight heating and some pressure.
Treatment times vary between patients and the number and size of treatment areas, but most RF microneedling treatments typically take one hour.
Downtime and Recovery
Potenza RF microneedling downtime is similar to Morpheus8 microneedling. You may experience redness, swelling, or tenderness in the treatment area, but these typically resolve within a few days. Full skin recovery may take up to 5-7 days.
You may resume your normal activities after treatment, but always protect your skin while it heals. Always wear sunscreen and follow your dermatologist's aftercare instructions to ensure the best possible results.

Choosing Between Morpheus RF and Potenza RF
While there is no doubt that both Potenza RF and Morpheus RF microneedling are effective skin rejuvenation treatments, they are not created equal. Choosing more advanced features can take your RF microneedling treatment to a whole new level.
Morpheus RF features bipolar RF energy, while Potenza RF is the world's first 4-mode RF microneedling device that offers monopolar, bipolar, and 1 and 2 MHz frequencies in one device. And while Morpheus RF comes with 24 silicone-coated microneedles, Potenza RF features 16, 25, and 49 needle array and 10 need needle tips. Its needle tips include a Tiger tip with adjustable lengths to target the skin on multiple levels and a Fusion tip that effectively delivers topical agents applied on the surface of the skin.
More advanced treatment options and a more versatile platform with customizable treatments may address multiple skin concerns more effectively and provide a more comprehensive approach to skin rejuvenation.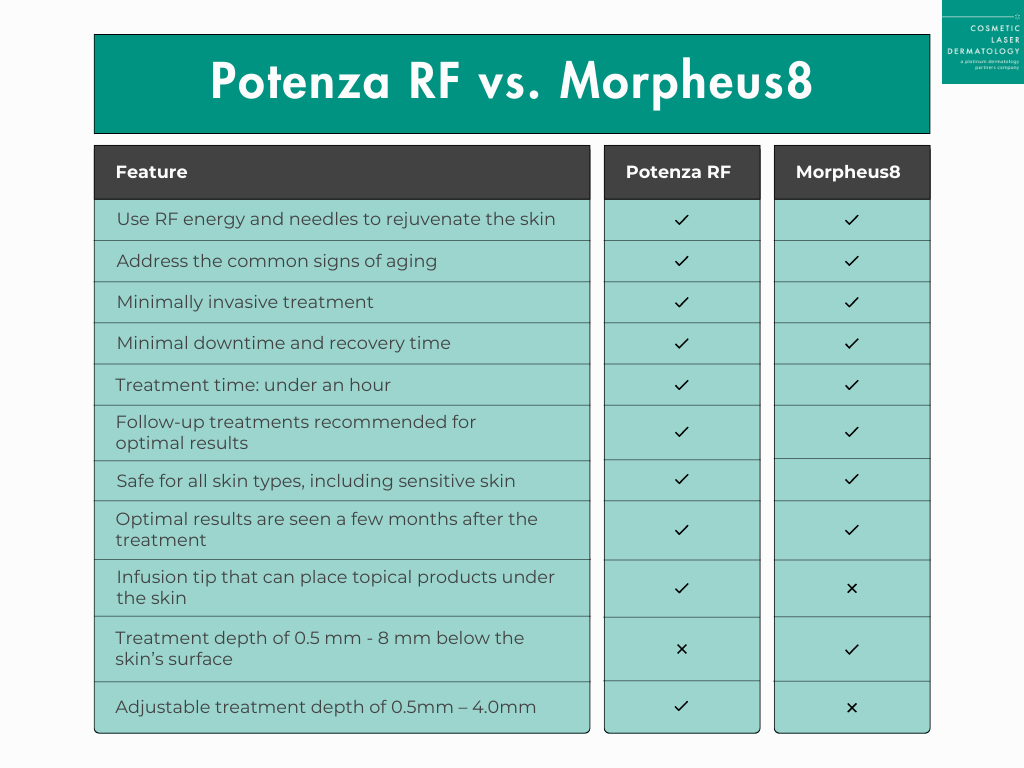 Factors to Consider
Choosing the right RF microneedling device depends on several factors, such as your skin concerns and the level of skin rejuvenation you want to achieve. To address multiple skin concerns, you might want to consider more versatile platforms that provide more customizable treatments.
More importantly, getting the best results relies heavily on who is administering the procedure, given that RF microneedling devices involve multiple energy levels and needle penetration depths. Choose a doctor who understands the device and understands your particular concerns.
Schedule your Potenza RF Consultation Today
RF microneedling is an excellent treatment option for addressing a wide range of skin concerns with minimal downtime. The best way to determine if any device or procedure is right for you is to consult with an experienced board-certified dermatologist. They can assess your skin and recommend a personalized care plan to help you achieve your desired results.
Cosmetic Laser Dermatology is a top cosmetic dermatology center in San Diego with an in-house research center, 60+ laser, energy, and light devices, and seven board-certified dermatologists for the most innovative treatment combinations and superior anti-aging results. Contact us to schedule a consultation and learn more about Potenza RF.