When we think of aging, we think of wrinkles on our faces, fine lines around our lips, and crow's feet near our eyes. However, lines have a funny way of making their way onto other parts of our bodies. At Cosmetic Laser Dermatology in San Diego, we want our patients to know that injectables and facial fillers have more uses than you may previously have thought.
CLDerm's own Sabrina Fabi, MD, has been featured in a recent article published in the Cosmetic Surgery Times, and according to the write-up, injectable Sculptra is not only effective but safe, to use as a filler for deep aging chest lines. In a new study, 28 patients were examined and treated with Sculptra for the management of chest lines. Of the 28 who showed moderate to severe lines in their chest, every single test subject saw an improvement in volume, wrinkles, contour, and even laxity with between 2-3 treatments on average.
In the past, fractional CO2 resurfacing has been the go-to procedure to help women overcome this problem, though it requires downtime and has the minor potential for scarring. Sculptra, on the other hand, requires absolutely no downtime and the procedure takes only minutes in the office. Afterward, patients can continue to go about their everyday activities just as normal.
What Is Sculptra?
Though the treatment has been almost always used to treat areas of the face, Sculptra works as a volumizing treatment to actually regenerate your own collagen, resulting in a smoother and contoured skin appearance. Unlike other fillers, Sculptra does require additional treatments to see optimal results.  After your procedures in our San Diego office, you'll be happy to know about one of the best aspects of Sculptra—it can last for up to two years! For more details about Sculptra, visit healthline.com
Sculptra isn't only ideal for an aging chest, but can also be used to rejuvenate body areas including:
Under eye hollows
Jawline rejuvenation
Marionette lines
Temples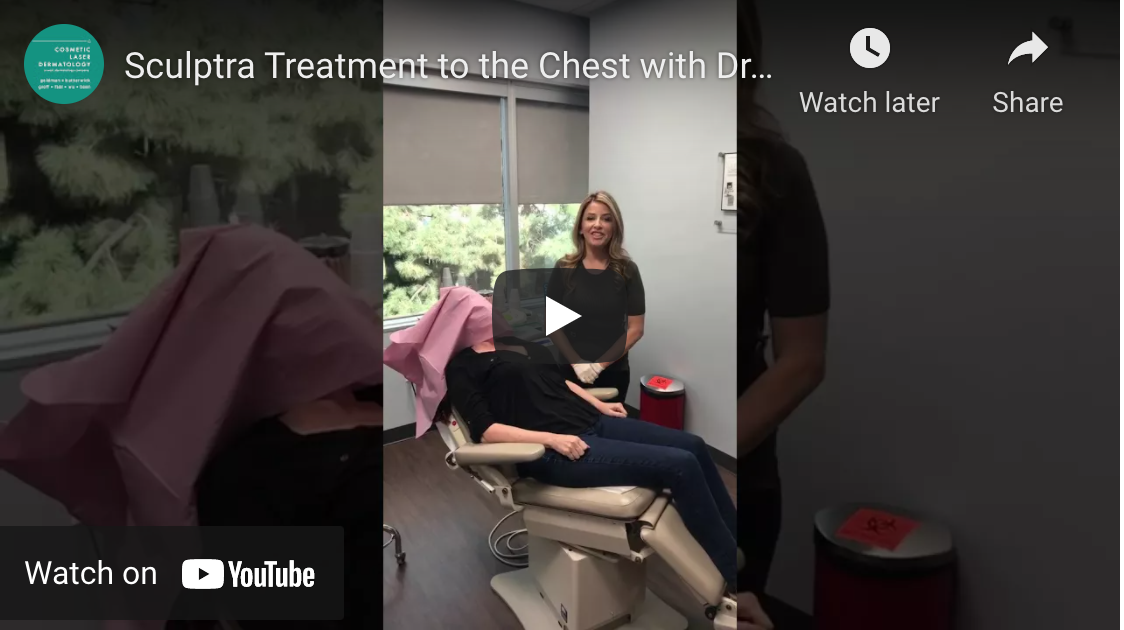 Contact Cosmetic Laser Dermatology Today
If you're interested in learning more about how you can combat an aging chest with Sculptra, or if you're seeking non-invasive treatment for other types of body rejuvenation, please contact the medical practice of Cosmetic Laser Dermatology in San Diego today to schedule your initial consultation. During your initial consultation with our team of expert injectors, we'll be able to answer your every question and address all of your concerns.
For more information regarding Sculptra and other injectables offered at our practice, please contact us today by calling (858) 943-2113.
Next, learn about Bad Habits that Cause Wrinkles.