Cosmetic Laser Dermatology in San Diego, CA, is at the forefront of tattoo removal technologies. With 50+ laser, light, and energy devices available, we are proud to offer the revolutionary TotalTat³ treatment, our proprietary laser tattoo removal technique developed by our board-certified dermatologists. We designed the TotalTat³ system to remove tattoos of any size and color from any body part, regardless of skin tone.
What Makes TotalTat³ the Best Option?
Each of our lasers can already produce excellent tattoo removal results—now imagine the outcome when we employ three of those powerful devices in one session. The TotalTat³ system combines the most advanced lasers (PicoSure, PicoWay, and AcuPulse) and the optional addition of Q-switched lasers for even more powerful results. This team effort enhances each device's ability to remove stubborn ink colors more thoroughly. This innovative technique offered in our San Diego, CA office offers three significant benefits:
1. Works on Any Ink Color
We are fully equipped to remove tattoos of all colors, shapes, and sizes. Using multiple lasers means engaging various wavelengths and bursts of laser energy to shatter tattoo ink. TotalTat³ can effectively remove or fade the ink of every color from black to red, green, and orange on any part of the body, regardless of skin type. Furthermore, our lasers are so accurate that we can remove just a portion of your tattoo if you wish.
2. Fewer Sessions Needed
The number of treatments required will vary for each tattoo, depending on the size, ink colors, type of ink used, density, depth of ink, location, and skin tone. We can eliminate most tattoos in just 3-5 sessions, less than half the number of sessions needed for traditional tattoo removal. We space out laser treatments every 4-6 weeks to ensure total healing between procedures and maximum results.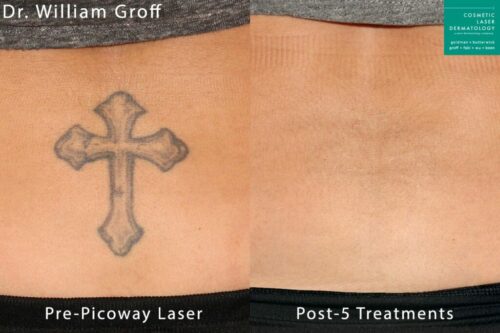 3. Expert Dermatologists
It is essential to seek tattoo removal treatment from a board-certified dermatologist. Tattoo removal is not a one-and-done procedure but a process. You will not only need someone skilled with laser and light devices but a skin expert who can guide you through the process. Our dermatologists understand what's happening below the surface of your skin to recognize complications and give the best care possible. As with any laser or energy device procedure, there is minimal risk of scarring, hyperpigmentation, and hypopigmentation. Our board-certified dermatologists are ready to handle any complication.
Cosmetic Laser Dermatology helped develop the first laser specifically designed for tattoo removal more than 30 years ago and continues to innovate with new techniques and devices for advanced skincare. Our practice is proud to be the home of the first PicoSure and PicoWay lasers in Southern California. We also remain committed to pursuing research to advance the field of dermatology and combine major cosmetic breakthroughs in science and medicine to provide patients with the best solutions to their skin concerns. We can say with confidence that you can trust your skin in our hands.
Traditional Tattoo Removal
Traditionally, the removal of unwanted tattoos involved more destructive procedures. Techniques such as dermabrasion, salabrasion (uses a saltwater solution and an abrasive tool to scrub the tattooed skin away), cryosurgery, chemical destruction, and surgical excision are painful, leave scars, and don't have the best track record in efficacy. 
Advances in laser and light-based therapy revolutionized tattoo removal. Earlier devices, however, weren't precise or powerful enough to work on every color, making it impossible to achieve 100% removal of the ink. Furthermore, it would typically require double the number of sessions compared to TotalTat³. And even if it did eliminate the ink, it would likely have caused excessive damage to the skin.
PicoSure and PicoWay systems use extremely short, high-intensity pulses to break down the tattooed pigments into smaller particles. It pulses at an astonishing rate 100 times shorter than nanosecond technology. This allows for an unparalleled photochemical impact without harming the surrounding skin, resulting in fewer treatments and a faster skin clearance rate. Similarly, Q-switched lasers also use intense pulses of light energy. The pulses are so brief that the skin isn't heated long enough to cause tissue damage. Yet, the pulses of energy are so powerful that the tattoo ink instantly breaks into smaller pieces as it absorbs the light. These lasers are the new gold standard in tattoo removal. If you have a tattoo regret or unwanted permanent makeup, check out our blog on how Clderm provides an effective treatment without leaving any visible scars.  
Successfully Remove Your Tattoos with TotalTat³ in San Diego, CA
Even the greatest-looking tattoos can turn into regret. Fortunately, you can turn to advanced laser technology to leave them behind with TotalTat³. With the combination of superior lasers that already produce exceptional results separately, you can expect the best possible outcome. TotalTat³ is exclusively available at San Diego's #1 destination for beautiful skin for over 30 years. To schedule a consultation, contact Cosmetic Laser Dermatology today.