Liposuction is a surgical procedure that targets excess fat located throughout the body. With advances in medical technology, there are innovative non-invasive procedures with less downtime and custom results. When considering non-invasive liposuction, it is important to have realistic expectations. These procedures are designed to contour and sculpt the body and are not meant for significant weight loss.
What is Non-Invasive Lipo?
Non-invasive lipo is a body sculpting method that uses different technologies, such as cold therapy, ultrasound, or radiofrequency, to eliminate stubborn fat deposits. Unlike traditional liposuction, non-invasive liposuction does not require incisions or anesthesia and typically involves little to no downtime. Non-invasive liposuction treatments are ideal for patients who have tried diet and exercise to reduce fat and improve body contour but have not seen significant results.
CoolSculpting® Elite is a non-invasive liposuction treatment that uses controlled cooling to remove fat. The technology is FDA-cleared and can target specific areas, including the neck, chest, arms, stomach, love handles, thighs, and knees. Many patients see noticeable results within just a few weeks of treatment, with full results visible after a few months. CoolSculpting Elite is a safe and effective alternative to traditional liposuction for those who want to remove small pockets of fat and improve their body shape.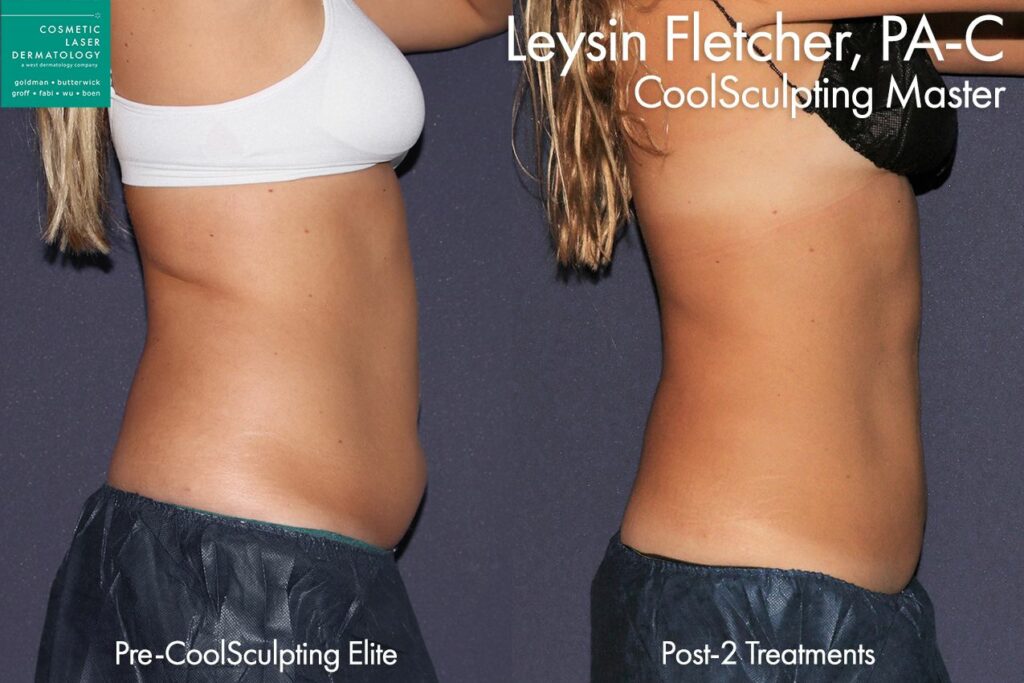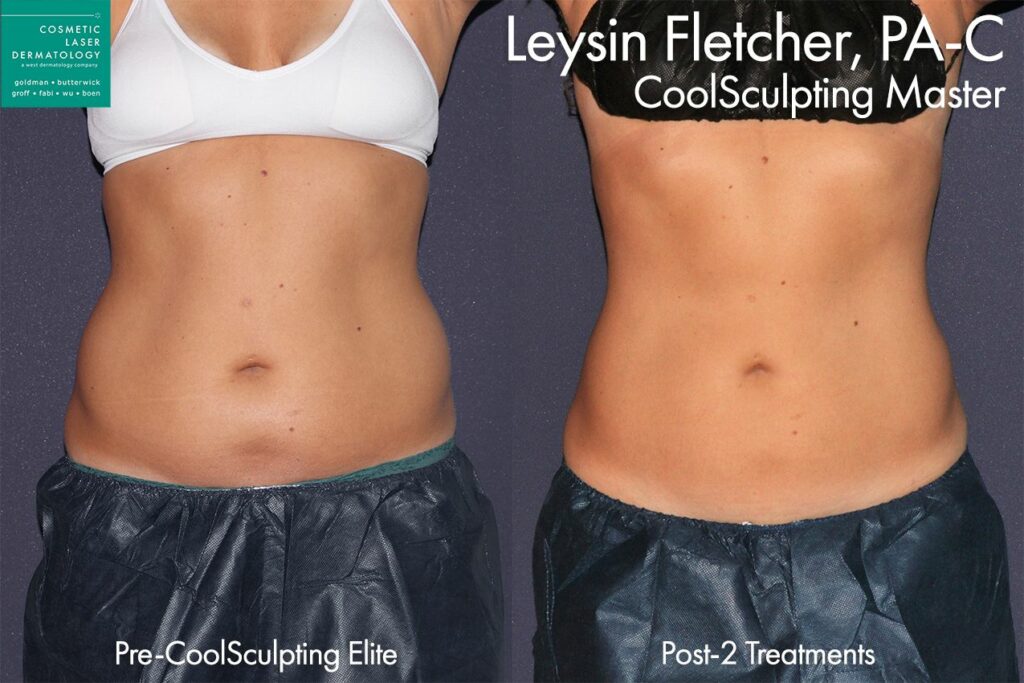 What Happens During a Non-Invasive Lipo Procedure?
Non-invasive liposuction procedures involve advanced technologies to selectively target and break down fat cells without damaging surrounding tissues. During the procedure, a custom applicator is applied to the treatment area to target the fat cells and destroy them so they can be eliminated through the body's natural processes.
For CoolSculpting Elite, the device is placed on the treatment area, and the applicator emits cold temperatures that freeze and destroy fat cells. Patients may feel a tightness or suction during the procedure, indicating the machine is working by pulling the fat cells into the cooling device. After several minutes the treatment area will become numb from the cold, and patients can read, watch a video, or even nap during the session. The body naturally eliminates the treated fat cells over time, resulting in a more sculpted and contoured appearance.
How Long Does the Procedure Take?
The treatment time depends on the size of the target area and the technology used. Some treatments, such as CoolSculpting Elite, take approximately 35-60 minutes per treatment area. However, multiple treatment areas may be required to achieve the desired results, such as the stomach and thighs, for a slimmer shape. Numerous treatment areas can result in longer or multiple sessions to achieve your goals.
At our San Diego location, we have two CoolSculpting Elite devices that allow us to treat four areas simultaneously. This can significantly shorten treatment time for our patients.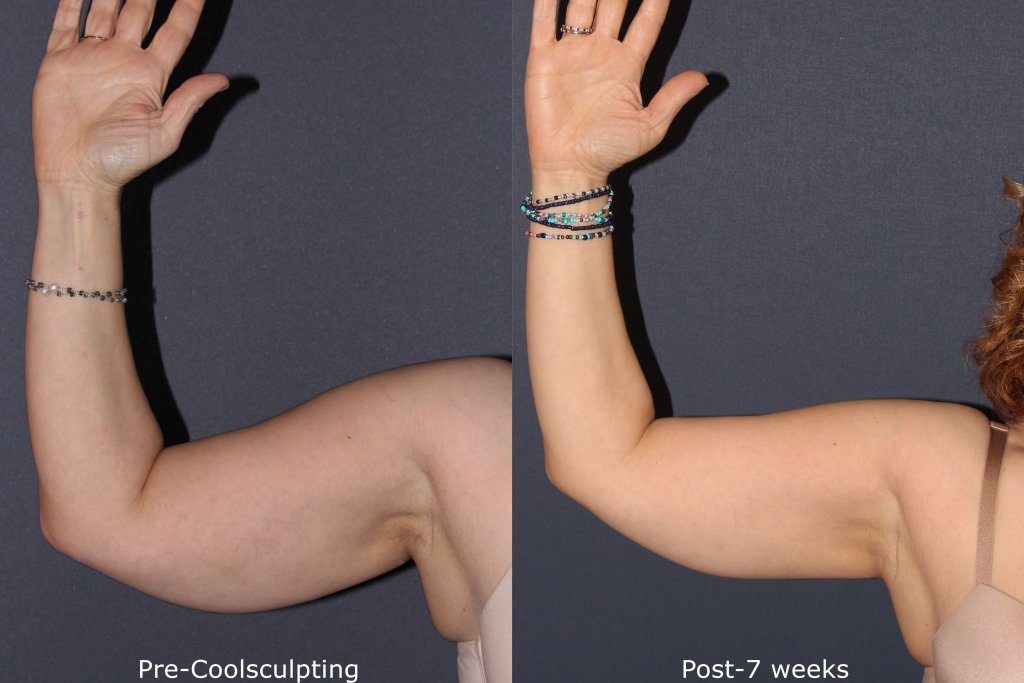 What to Expect in Terms of Comfort and Recovery
With non-invasive lipo treatments like CoolSculpting Elite, patients may experience slight discomfort or a cold sensation when the procedure begins, but most patients tolerate the treatment well. CoolSculpting Elite uses vacuum pressure to draw the tissue into the device, which can cause mild pulling or tugging on the skin. Once the treatment is underway, the treatment area becomes numb from the cold temperature of the device. Depending on the treatment area, patients can undergo the treatment while sitting or standing and can use personal devices like phones or laptops during the procedure.
After the procedure, patients may feel mild and temporary side effects that can include:
Muscle stiffness and aching
Muscle spasms or cramping
Skin sensitivity, tingling, or numbness
Itching or tenderness
Redness or whitening of the skin
The recovery process is relatively short, and there is little to no downtime, allowing patients to return to their daily activities immediately after the procedure. It is essential to continue a healthy lifestyle and exercise routine to maintain the results of the treatments. The body will flush dead cells, and patients will begin to see a more contoured shape in the weeks and months following the procedure. Some patients may find a second treatment session reduces fat even more to improve results.
Post-Treatment Care and Maintenance for Non-Invasive Lipo Procedures
Non-invasive lipo procedures require minimal downtime and post-treatment care. Patients can return to normal daily activities but should avoid rigorous workouts for a few days following their session. Staying hydrated is key to flushing out dead fat cells and encouraging a healthy recovery and noticeable results.
Because non-invasive lipo eliminates fat cells, the results are considered permanent. However, weight gain after treatment can enlarge the remaining fat cells, which can affect your results. Patients that adhere to a healthy diet and lifestyle will be more likely to maintain their positive results long-term.
Get Body Contouring Results in San Diego
Cosmetic Laser Dermatology is proud to have Leysin Fletcher, PA-C, as a Master CoolScullpting Elite Specialist. Leysin is one of two highly qualified physicians in San Diego, making our facility the top choice for seamless contouring results. Our board-certified dermatologists have also been involved in research studies involving CoolSculpting and other body contouring devices.
We also offer the proprietary procedure known as Cool³, which combines CoolSculpting with the muscle toning effects of CoolTone® and the skin smoothing of the Zimmer Z-Wave acoustic therapy to optimize your body contouring results.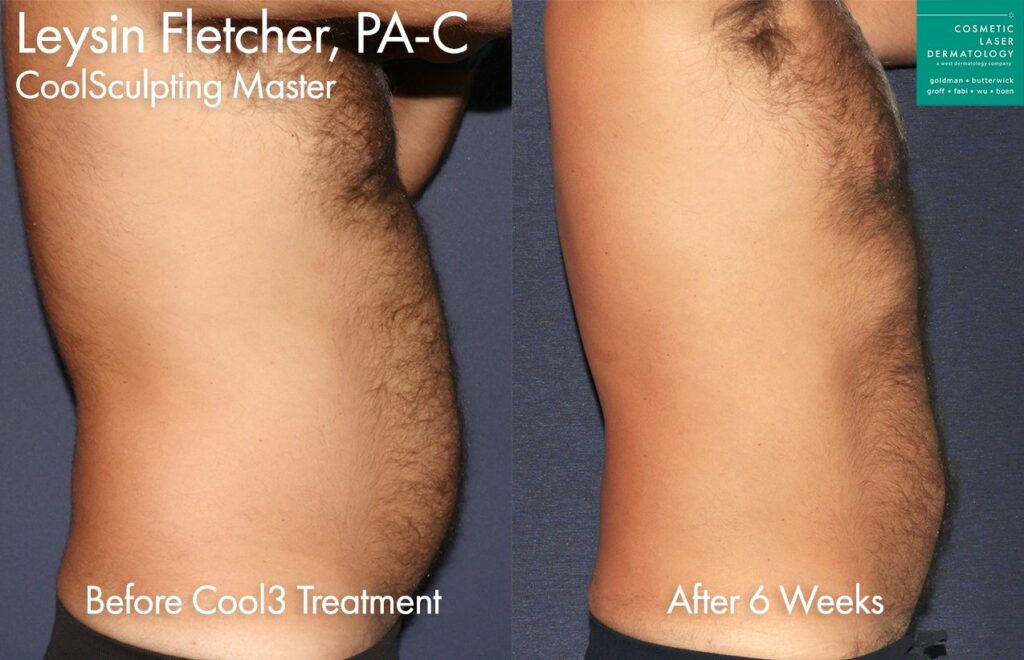 Contact us to schedule a consultation and learn more about non-invasive lipo.