Radiofrequency skin tightening is an effective way to reduce the appearance of wrinkles and sagging skin without surgery. It uses radiofrequency energy to heat the underlying skin layers and stimulate collagen production, resulting in firmer, smoother skin.
What Is Radiofrequency Skin Tightening, and What Are its Benefits?
Radiofrequency skin tightening utilizes a device that emits energy into the target area, creating heat and stimulating collagen and elastic fiber production. This causes the skin to contract, resulting in a more youthful appearance without surgery.
Some improvement may be seen immediately, but results continue to improve in the weeks and months following treatment as collagen and elastin levels continue to rise. The procedure is safe, with little downtime and few side effects. Some benefits of radiofrequency skin tightening include:
Minimal downtime
Long-lasting results
Non-surgical procedure
Increased collagen production
Increased elastic fiber production
Tighter, smoother skin
Improved skin tone and texture
Rejuvenated skin
Reduction in acne scars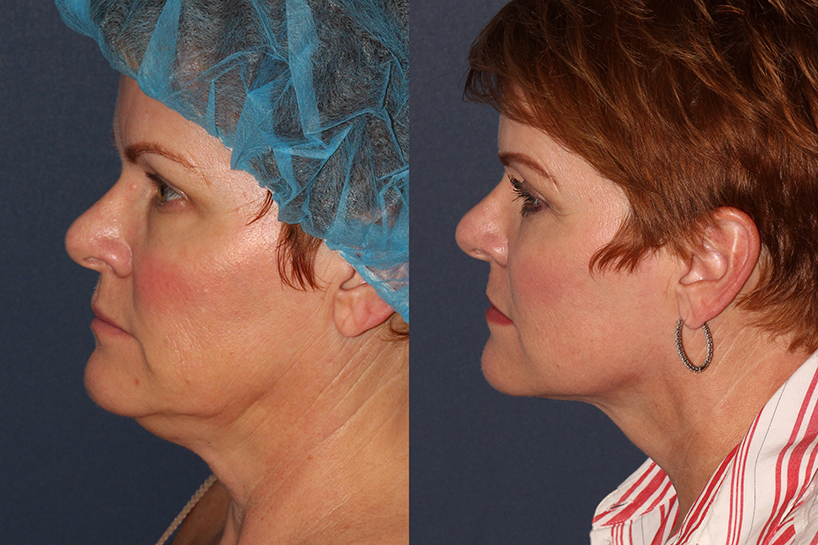 Types of Radiofrequency Treatments
Different types of radiofrequency devices for skin tightening are available, depending on your unique skin condition and desired results. Each treatment has benefits and risks, so discussing options with your board-certified dermatologist is essential. Some of the best radiofrequency skin tightening devices include: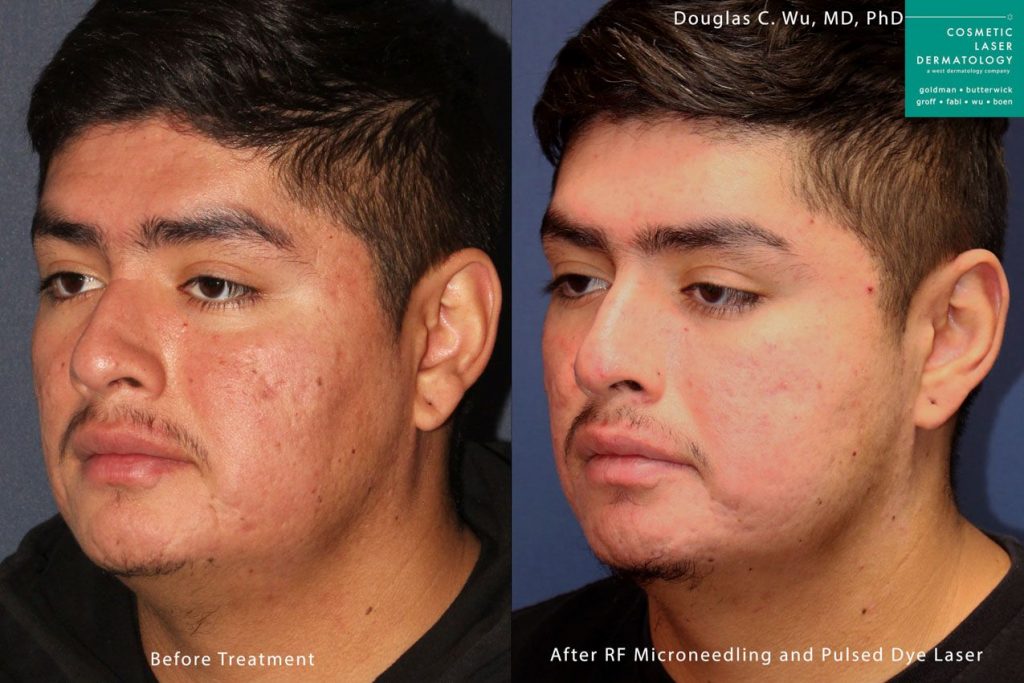 Radiofrequency Microneedling
Radiofrequency microneedling is a technique that uses a combination of radiofrequency energy and hair-thin needles to rejuvenate the skin at a cellular level. The tiny needles create micro-channels in the dermal layers to stimulate collagen production, while the RF energy delivers gentle heating to the deeper tissue. The result of this combination approach is firmer, smoother skin with minimal downtime afterward. It is an effective treatment for wrinkles, fine lines, and other skin imperfections like acne scars.
At Cosmetic Laser Dermatology in San Diego, we offer the innovative Potenza™ RF microneedling device, which diminishes wrinkles, tightens skin, treats scars, minimizes pores, and improves skin texture and tone. This customizable treatment offers versatility, safety, and efficacy in treating various skin concerns.
Thermage
Thermage® is a radiofrequency skin tightening device that leverages deep heating and integrated cooling systems. The handheld device heats deep tissue in the dermis and subcutaneous tissue to stimulate collagen and elastic fiber production and tighten the skin. A simultaneous cooling system cools the epidermis to protect the top layer of the skin. Many patients see significant results with one treatment session, but multiple treatments can be administered several months apart for optimal results.
ThermiTight
ThermiTight is a non-surgical radiofrequency skin tightening treatment that heats the skin at precise temperatures to spur collagen and elastic fiber production. The device uses a narrow probe inserted under the skin to deliver RF energy where it will be most effective. ThermiTight can also be combined with liposculpture in Cosmetic Laser Dermatology's proprietary ThermiSculpt³ treatment. ThermiSculpt³ can dramatically reshape the neck and jawline for a contoured appearance and a significant reduction in sagging skin without requiring a neck lift or facelift.
How Does the Treatment Work?
Radiofrequency skin tightening delivers focused energy to the skin's deeper layers. The heat from the energy causes the tissues to contract and initiate the body's natural healing process.
Additionally, the energy stimulates collagen and elastic fiber production, resulting in a more youthful complexion and firmer skin that continues to improve over time. Depending on your unique needs and goals, your expert dermatologist can create a custom treatment plan with the best radiofrequency skin tightening devices for sagging skin, wrinkles, and under-eye bags.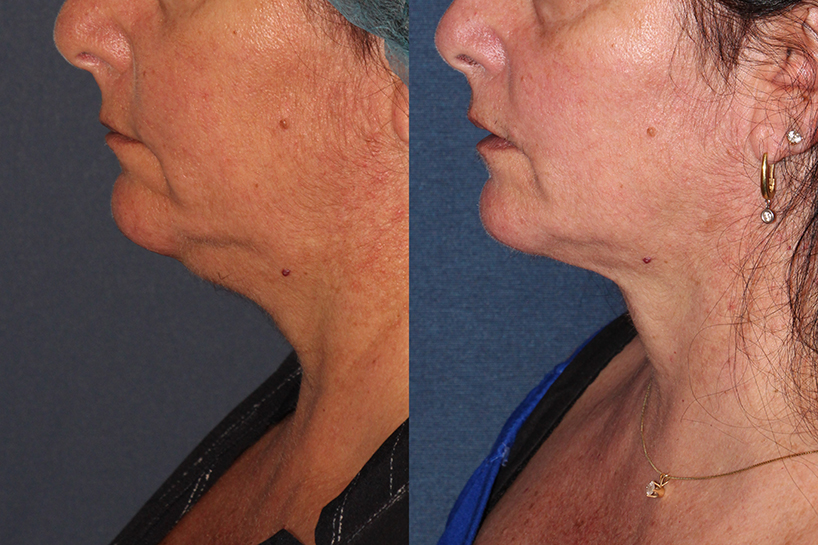 How Long Will Radiofrequency Skin Tightening Results Last?
The results of radiofrequency skin tightening are not permanent but can be long-lasting. The effects may vary depending on the individual, as some people may require more treatments to achieve desired results. Although it is not a permanent solution, radiofrequency skin tightening can help reduce wrinkles and sagging skin, resulting in a more youthful appearance. Your dermatologist can help you develop a treatment plan with maintenance sessions to help you keep your improvements indefinitely.
What Should You Expect During and After Your Treatment in San Diego?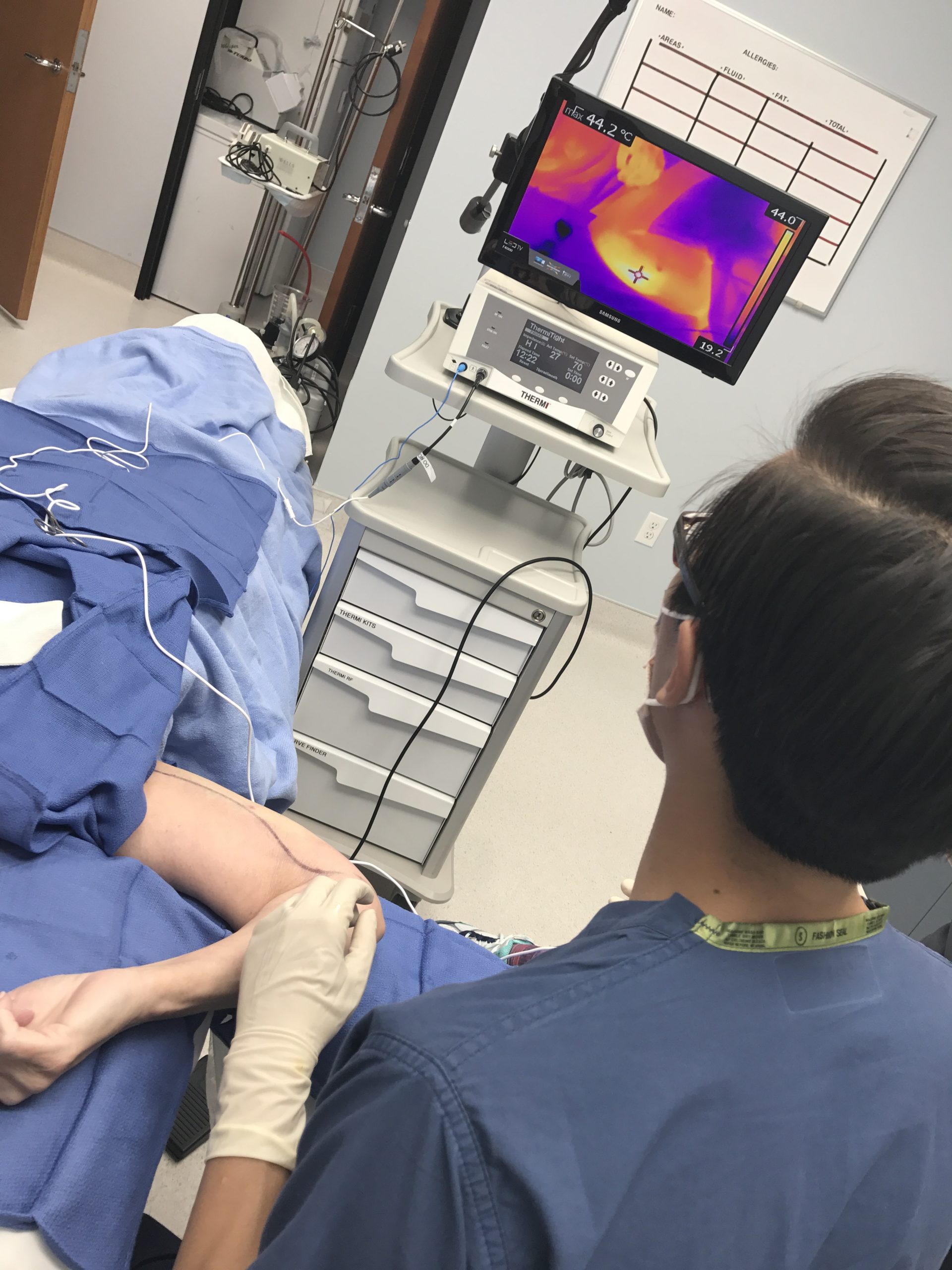 During your treatment, you can expect a mild warming sensation on the skin, which is kept at a comfortable temperature by your doctor. Some devices have a cooling system to help make the treatment comfortable. Local anesthesia may also be administered before the procedure. After the treatment, you may experience mild side effects for several days, including:
Swelling
Tenderness
Redness
Tingling sensation
After a treatment session, you should follow aftercare instructions provided by your dermatologist. Instructions may include face-cleaning tips and things to avoid, such as direct sun exposure.
How Often Should You Get Radiofrequency Skin Tightening Treatment?
Many patients enjoy long-lasting improvement after radiofrequency skin tightening. Depending on the severity of your skin condition and desired result, you may require multiple treatments to achieve optimal results. Your board-certified dermatologist will assess your progress and recommend a maintenance plan to meet your long-term beauty goals. Cosmetic Laser Dermatology is a renowned practice with seven board-certified dermatologists with over 125 years of combined experience.
Our expert team provides high-quality care and innovative treatments to help patients achieve natural results. Contact us to schedule a consultation and learn more about radiofrequency skin tightening treatment options.