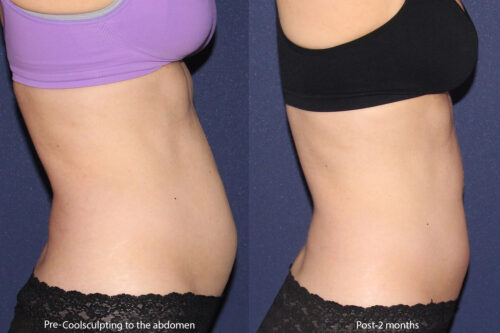 Maintaining a fit body takes self-discipline. A lot of work is necessary to keep yourself healthy and toned – eating a balanced diet, avoiding tempting snacks (ice cream, fried foods, chocolate cake, and other delicious treats), getting enough sleep (7-8 hours) and following a daily exercise plan.
Yet, it always seems that a couple of pockets fat just won't melt away no matter what you do. This represents genetically programmed fat deposits. Liposuction, while safe and effective and performed under local anesthesia is still invasive (and frankly, you probably don't need it if you've got only one or two pockets of stubborn fat), so you might consider other cosmetic body sculpting procedures, including the non-invasive excess fat removal procedure from ZELTIQ called CoolSculpting.
However, in the uber-competitive world of cosmetic body contouring, you may have heard myths and misconceptions associated with CoolSculpting. This is not uncommon as rivals are always trying to one-up each other in various ways. At Cosmetic Laser Dermatology, we are proud to offer this innovative fat freezing treatment.
Top Misconceptions about Body Sculpting Procedures
Thousands of our San Diego patients have experienced incredible body contouring results through CoolSculpting, so we'd like to clear up five of the most common myths and misconceptions about this treatment.
Myth #1 – It's a Great Replacement for a Weight Loss Program
CoolSculpting is not designed to be a weight loss tool. It simply is a non-surgical, non-invasive fat reduction treatment. You're not going to experience dramatic weight loss because that's not what the treatment is designed to do.
The non-invasive fat freezing procedure is ideal for contouring small sections of stubborn fat because it cools the fat cells until they burst and disappear forever. However, because of its innovative technology, tissue and other cells surrounding the targeted fat cells are not harmed.
As you continue your regular diet and exercise, you'll gradually get the body contouring results that you desire, which are permanent and so natural looking that no one will know you had a body sculpting procedure done in Del Mar.
#2 – It is a Sagging Skin Treatment
The ZELTIQ CoolSculpting procedure is designed for excess fat removal and cosmetic body sculpting, not for sagging skin. Because the freezing temperatures affect fat cells under your skin but not the tissue surrounding the targeted cells, your skin is unaffected. Therefore, if you have lax skin, this is not the sagging skin treatment you would need.
But there is good news. Cosmetic Laser Dermatology provides a number of skin tightening treatments that may be used to lift and firm some areas of sagging skin. For example, Ultherapy, Thermage, and ThermiTight have all been successfully used to tone and tighten the upper arms, abdomen, thighs, face, and neck.
Myth #3 – Body Contouring Results Show Instantly
This is not like instant coffee. You won't be fat-free the next day or even the next week. It's a fat-freezing treatment that shatters fat cells, which are then flushed from your system. But this cosmetic body sculpting process isn't quick. Your body needs time to absorb the microscopic leftover cell fragments before eliminating them, so it is important to be patient. You could notice results within a month, but the most dramatic changes usually manifest in two to three months. In fact, many of our patients continue experiencing slimming effects for six months. At times more than one treatment is necessary to achieve optimal results.
Keep in mind, though, that this is not a weight loss treatment. You can disrupt all potential body contouring results if you don't continue maintaining your previous exercise and diet plan. It's a permanent fat loss solution, not a quick weight loss fix. In fact, the longer you continue eating well and exercising regularly in San Diego, the longer the effects last.
Myth #4 – It is Painful
CoolSculpting is non-invasive and non-surgical. You will feel intense cold, but you won't endure any incisions or needles, so there is virtually no pain. During the first few moments of your session, you may feel numbness or discomfort as the device pulls, presses, and contours your skin. Yet, many La Jolla patients sleep, read a book, or watch a video during their session.
In the days following your cosmetic body sculpting session, you may feel some mild soreness, tenderness, itching, bruising, tingling, and swelling. Normally, these side effects are mild and short-lived. Within a week, all side effects should vanish.
Learn more about Cryolipolysis technology at Wikipedia.org.
Myth #5 – CoolSculpting is Effective Only for Your Belly
One of the things we like best about CoolSculpting at our San Diego practice is its versatility. It is safe and effective for nearly any part of your body that has pockets of fat. Common areas that we treat include the following:
Stomach
Muffin tops
Love handles
Upper arms
Thighs
Neck
To learn more about CoolSculpting, visit healthline.org
To Dispel More CoolSculpting Myths, Contact Cosmetic Laser Dermatology
Don't let the myths and misconceptions of CoolSculpting deter you from your body contouring goals. The fat-freezing technology of this cosmetic body sculpting therapy gets permanent fat loss results without damaging surrounding tissue. If you have small pockets of fat that are stubbornly resisting diet and exercise, contact Cosmetic Laser Dermatology today to learn more. Contact us online to schedule a consultation.
Next, learn how Liposculpture can shape and contour your body.