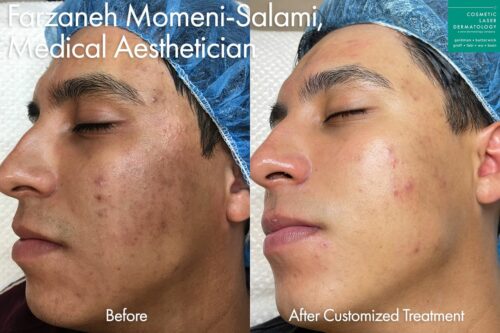 If you believe that you're good at hiding away all of the stresses in your life, think again. According to new reports, the amount of stress in your life can be reflected by one of the most important parts of your body—your skin! At Cosmetic Laser Dermatology in San Diego, our team of world-renowned doctors and cosmetic surgeons want to help our patients understand just how this can be, and what procedures are best for combatting a stressful face.
Stress & Your Skin
Did you know there is actually a stress hormone? That's right! When you're feeling overwhelmed, your body actually produces more of the hormone cortisol, causing an increase in oil production in your skin that can lead to excess grime and acne. Aside from oil and perhaps more serious, stress has also been linked as a contributing factor to premature aging, cell degeneration, and one of the deadliest forms of skin cancer—melanoma. In studies conducted on mice by Ohio State University researchers, skin cancer cells grew much more rapidly in mice that were stressed out than in those who were placed in a calm environment. In addition, past research has suggested that individuals suffering from melanoma had most likely experienced seriously stressful life events just prior to their diagnosis.
Photodynamic Therapy
Because stress can cause so many different problems with our skin, including acne and possibly even contribute to the growth of certain skin cancers, undergoing photodynamic therapy treatments can help rejuvenate your appearance while simultaneously killing precancerous cells on your face. PDT works by using photochemical reactions to photosensitizing agents, light, and oxygen. The procedure begins by applying Levulan to the skin to be absorbed. When light hits the Levulan at a specific wavelength, the treatment corrects damaged skin and kills actinic keratosis or pre-cancerous lesions. PDT is also a great treatment for reducing the appearance of rosacea and sun damaged skin.
Photodynamic therapy can truly rejuvenate your facial appearance, bringing a stress-free and healthy glow to your face.
Contact Cosmetic Laser Dermatology Today
Even though some of life's challenges may be constantly bringing you stress, you don't have to let the effects show on your skin! If you'd like to learn more about undergoing laser skin resurfacing in San Diego with one of our world-renowned board-certified dermatologists, we encourage you to contact our medical practice today to schedule your initial consultation by calling (858) 943-2113. At CLDerm, we understand the importance of bringing you a customized procedure, and during your initial consultation, we'll be able to address your unique concerns.
For additional information about undergoing laser skin resurfacing, please contact our dermatologists today.
Next, learn all about How to Beat Rosacea.