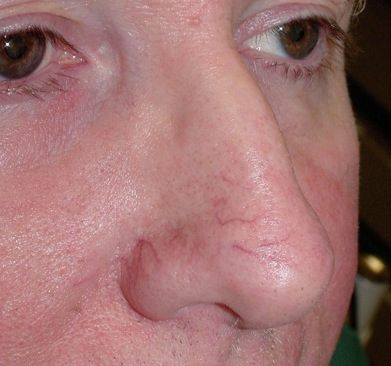 According to a recent study, more men than ever before are seeking treatment to diminish the appearance of small "thread veins" near and on the nose. Just a decade ago, men accounted for only 5% of patients undergoing the treatment, and today, that number has skyrocketed to a whopping 40%! At Cosmetic Laser Dermatology in San Diego, our expert dermatologists believe the increase is not only a result of the ease of the procedure but also due to the negative connotations often associated with the condition.
What Causes Nose Veins?
Thread veins are small, spider-like veins that can appear around the nose and near its tip. Though they aren't very large in size, they can be extremely noticeable in some individuals. The new study indicated that one of the main reasons associated with the increase in men seeking treatment to rid themselves of these tiny veins is the fact that they can occur as a result of heavy drinking, among other things.
As you can imagine, this negativity associated with the appearance of the veins has the chance to damage a reputation and cause speculation. However, drinking isn't the only thing that can cause thread veins, as smoking, rosacea, and overexposure to the sun have all also been linked to their appearance.
Thread Vein Treatments
At Cosmetic Laser Dermatology in San Diego, our world-renowned doctors have the ability to help patients overcome nasal thread veins in as little as just one treatment. Treating small and unsightly nose veins relies heavily on the severity and location, which is why our dermatologists will evaluate each patient's needs carefully to develop a unique treatment plan with one of our 38 lasers. Most often, the lasers used to combat their appearance include Intense Pulsed Light, VBeam, and the Cool Touch Varia.
Lasers are extremely effective in the treatment of thread veins and work to deliver the correct dose of energy for diminishment to the area without doing any damage to the surrounding tissue. Treatment with the laser results in the vein being naturally absorbed by the body. Though there is often no discomfort when undergoing treatment for facial veins in San Diego, some patients may experience mild swelling or redness alongside tender skin for a few days following the treatment.
Speak With A San Diego Dermatologist Today
Deciding to undergo treatment for your facial veins should be made with the help of a board-certified dermatologist in San Diego, and our doctors can not only help you make that decision, but also develop a completely customized procedure best suited for your ultimate goals. If you'd like to learn more about treating facial veins in San Diego, please contact Cosmetic Laser Dermatology today by calling (858) 943-2113 to schedule your initial consultation, during which we can address any questions or concerns that you may have about laser treatments for thread veins. Because our board-certified dermatologists are also cosmetic surgeons, we have the most unique understanding of treating dermatologic conditions in San Diego.
For more information, please contact our medical practice today.
Next, read about how Sclerotherapy can Get you Ready for Swimsuit Season.