Juvéderm Volux Overview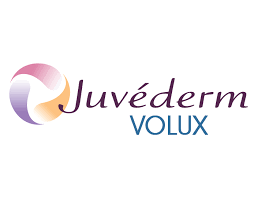 The newest member of Allergan's Juvéderm® family of HA dermal fillers, Juvéderm Volux, offers a non-surgical option for restoring volume and enhancing contours of the jawline and chin. Thicker and denser than other Juvéderm fillers, Juvéderm Volux is the perfect product for sculpting, lifting, and adding structure to the lower face. It creates smooth contours along the jawline, reduces the appearance of jowls, and creates a more refined definition between the jaw and neck, resulting in a more youthful appearance.
What does Juvéderm Volux treat?
Juvéderm Volux is approved for the indication of moderate to severe loss of jawline definition. It is focused on reshaping contours for balanced facial features. Juvéderm Volux can be used to:
Restore lost volume and create a lifting effect to reduce drooping of the jawline
Improve jawline definition
Sculpt the chin and/or jawline
Lift and sculpt the lower face
Soften fine lines and wrinkles in the lower face
Candidates for Juvéderm Volux
Suitable candidates for Juvéderm Volux are at least 21 years of age who want to address subtle jowling or an undefined or weak jawline and chin, and desire a non-surgical approach to achieve their aesthetic goals.
A patient may also choose to undergo a Juvéderm Volux treatment to:
Adjust proportions to improve facial harmony

Achieve a more masculine or "chiseled" jawline

Achieve a "liquid facelift" and address signs of aging
Why should I choose Cosmetic Laser Dermatology for my Juvéderm Volux treatment?
Our board-certified dermatologists perform all of our injectable procedures, so you can rest assured you are in expert hands and your treatment experience will be safe, comfortable, and effective. 
We are proud to be at the forefront of cosmetic research and we continue to explore the most advanced devices and treatments in our in-house research center. We also participate in research studies to learn about the latest trends and techniques in cosmetic dermatology and discover how they can benefit our patients. We were part of the clinical trials leading to FDA approval of injectables like Juvéderm® Voluma.
Cosmetic Laser Dermatology is a Center of Excellence in the Art and Science of Rejuvenation. Our board-certified dermatologists are anti-aging experts who understand the effects of aging and how best to address them. We will work with you to customize the ideal treatment plan for you. 
To learn more about Juvéderm Volux and our other injectables, schedule a consultation at Cosmetic Laser Dermatology in San Diego today.
What to Expect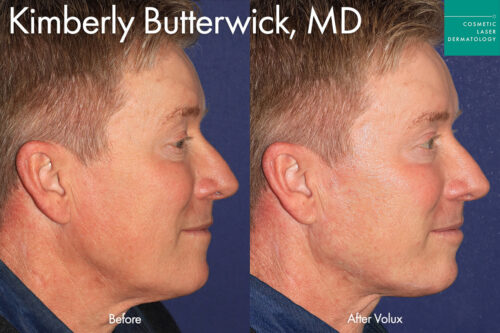 At Cosmetic Laser Dermatology, our physicians are expert injectors and administer all injectable treatments themselves. They will conduct an in-depth consultation with you to discuss your concerns and desired results before your treatment.
Juvéderm Volux is injected into the deep layers of the skin using ultrafine needles. As with other Juvéderm fillers, Juvéderm Volux includes lidocaine to increase patient comfort. 
A session usually takes less than an hour to complete. In some cases, we might recommend combining Juvéderm Volux with other dermal fillers and neuromodulators to address more concerns and achieve a more comprehensive facial rejuvenation, or what we call a "liquid facelift."
Recovery and Results After a Juvéderm Volux Treatment
Juvéderm Volux treatments require little to no downtime. You may return to your normal activities after your session. Side effects like swelling, redness, bruising, and itching are mild and limited to the injection sites. These side effects should resolve within a day or two and won't interrupt your normal routine. For all our injectable treatments, we offer a complimentary pulse dye laser to treat bruising should any occur. 
You will notice results immediately after your session, which will continue to improve over the days following treatment. Juvéderm Volux results last up to 24 months. Factors such as metabolism affect the duration of results, and we recommend follow-up treatments to maintain your results indefinitely.
Photos
FAQs
Q: What is Juvéderm Volux?
A:
Juvéderm Volux is a new hyaluronic acid-based facial filler designed for jawline enhancement. Its uniquely dense formula makes it the perfect filler to sculpt, define, and lift the lower face for up to 24 months.
Q: Is Juvéderm Volux safe?
A:
Juvéderm Volux from Allergan is FDA-approved and is considered a safe procedure, especially when performed by qualified and experienced injectors.
Q: Is a Juvéderm Volux treatment painful?
A:
Juvéderm Volux contains lidocaine, a mild anesthetic, to minimize discomfort during treatment. We also offer numbing cream before treatment for patients concerned about comfort during their procedure.
Q: How long does it take to see results?
A:
Initial results are visible immediately after injections, but results continue to improve in the days following treatment.
Q: How long will my results last?
A:
While results vary, research shows that patients may enjoy the benefits of Juvéderm Volux for up to 24 months.