Fractional Resurfacing Overview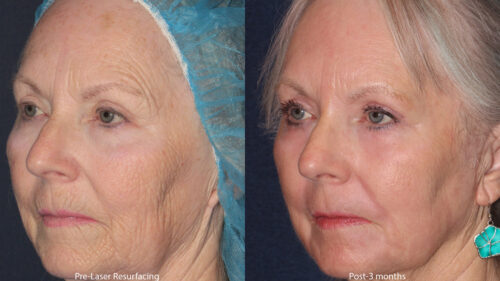 At Cosmetic Laser Dermatology in San Diego, our skincare specialists are experts at laser skin resurfacing. This treatment is now a very safe and common procedure that many people are choosing rather than more invasive surgical procedures.
Fractional lasers create thousands of tiny microthermal zones deep into the skin, which the skin repairs by pushing out the old, damaged skin and replacing it with new, fresh skin.
Each treatment stimulates the regeneration of the deeper collagen and elastin tissue while renewing about 20% of your's skin's surface. It triggers the body's own natural healing process, accelerating the production of new collagen and healthy skin cells.
Cosmetic Laser Dermatology now offers easy online booking to make scheduling quick and easy for our patients!
Fractional resurfacing laser treatments can be used to improve the following skin conditions:
Pigmentation problems (especially brown pigment)
Age spots, sun spots, and sun damage
Moderate to severe wrinkles
Textural irregularities
Lip lines
Acne scars
Surgical scars
Skin laxity (sagging skin)
The cutting-edge laser resurfacing treatments we offer at Cosmetic Laser Dermatology include the following:
Lumenis Active/Deep FX
The Lumenis Active/Deep FX is a combination of Active FX and Deep FX. When used together, they offer a full range of fractional resurfacing: Deep FX offers a deeper micro-ablative treatment to target deeper wrinkles and acne scarring, while Active FX offers a large superficial spot treatment targeting sun damage as well as tone and texture.
With Total FX, we are able to achieve maximum results in collagen production and skin smoothing and brightening in one single treatment.
Fraxel Re:pair
Fraxel Re:pair ™ (or Fraxel repair) is a revolutionary and effective procedure in the treatment of wrinkles, age spots, sun spots, sun-induced redness, scars and irregularities of the skin, normally in only one treatment.
The recovery time associated with Fraxel Re:pair ™ is significantly less than traditional laser treatments and the procedure has proven more effective than skin treatments used in the past.
According to Solta Medica, the makers of Fraxel Laser, the doctors at Cosmetic Laser Dermatology in San Diego have performed more Fraxel Re:pair procedures than any other practice worldwide!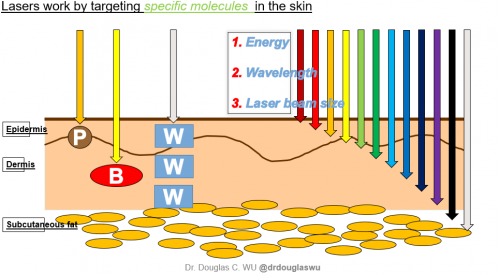 Fraxel Re:store Dual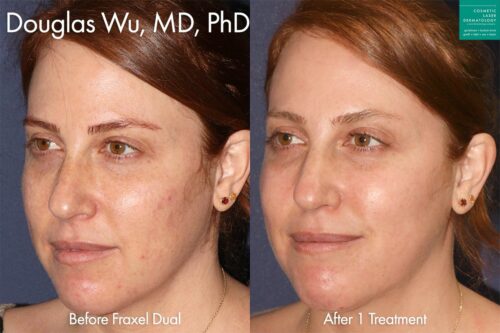 Fraxel Re:store Dual is a non-ablative erbium fractional laser, and literally two lasers in one.  It requires multiple treatments, but each with less downtime than the Fraxel Repair CO2.
The Fraxel Restore Dual is excellent for improving brown spots and brown pigment in the skin, fine lines, scars and skin texture.
We are proud that our doctors have performed more Fraxel Restore Dual procedures than any other practice worldwide, and our doctors were involved in its development.
This procedure is much less invasive than other methods used to improve the appearance of your face.  Recovery is easier with little to no downtime. Its benefits include:
Smoother and fresher looking skin
Improved tone and texture
Fewer wrinkles around the eyes
Reduced appearance of acne and surgical scars
Clear + Brilliant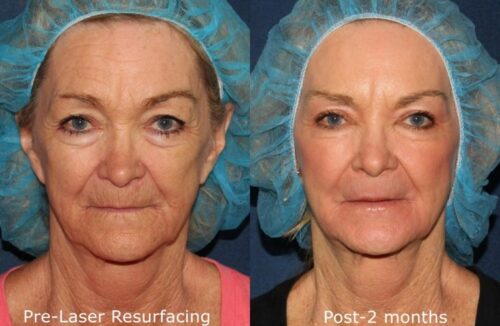 The Clear + Brilliant laser resurfacing treatment is unique in that it is both effective and gentle in treating a variety of skin conditions including unwanted pigmentation, sun damage, fine lines, and pores. While it is a fractional laser, it is much less invasive than traditional fractional resurfacing treatments.
The Clear + Brilliant laser leaves the skin smooth, glowing, and undamaged, with patients being able to return to their normal daily activities after the treatment. One of the main benefits of the Clear + Brilliant treatment is that it is safe for darker skin tones! Visit clearandbrilliant.com to learn more about what this laser can do for you.
What to Expect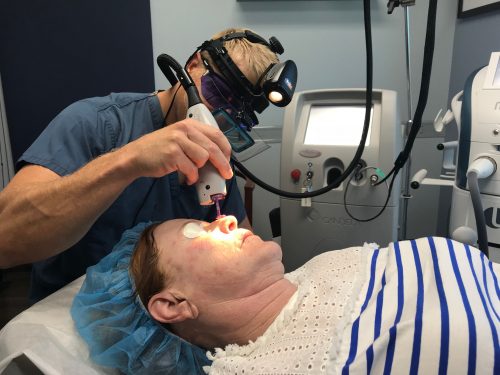 The very first step of a fractional resurfacing procedure will be to thoroughly clean your skin to ensure all oils are removed. After that, an antibiotic is applied to ensure any bacteria that may be on your skin (all skin has some bacteria) is removed. The next step will involve the use of the laser; short high-intensity light emissions are used to remove layers of wrinkled/damaged skin. This is done by passing a beam of light over the skin to vaporize the outermost layers that are damaged or wrinkled.
Recovery After Laser Resurfacing
You may experience swelling and mild discomfort, but this is normal.  We can reduce the swelling by applying a cold pack directly to the treated area. In some instances, a bandage may be used in order to protect the treated skin and keep it dry.
Use of professional skincare daily will support the skin's healing process and maintain optimal health so you can enjoy your results for as long as possible. With a wide range of top medical-grade products available in our office, you can design a personalized treatment program that meets your needs beautifully.
Read our pre/post-treatment guidelines here.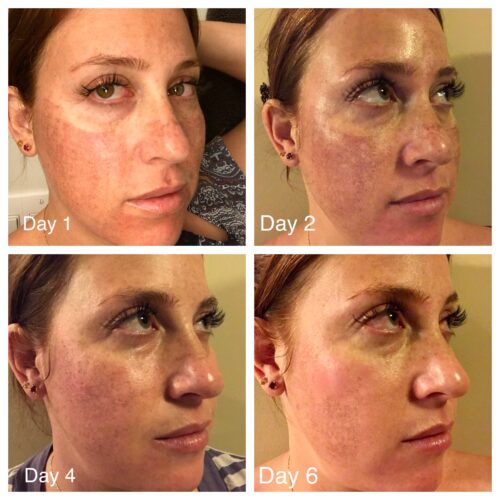 Photos
Videos
FAQs
Q: How long does a procedure take?
A:
These treatments are generally quick, lasting around 30 minutes to an hour. The length of the procedure depends on how many areas of the face, neck or chest are being treated.
Q: How many treatments will I need?
A:
Patients usually need a series of laser treatments in order to see the best results. Our doctors will usually recommend 3-5 laser treatments, every 3-8 weeks. The exact number of treatments varies and depends on the needs of the patient and factors such as age, skin type, etc.
Q: What are the side effects?
A:
Fractional laser resurfacing side effects are mild and can include some swelling or redness after the procedure. In rare cases, patients experience some bruising, which can take up to 2 weeks to go away.
Q: When will I see the results?
A:
Visible results from fractional resurfacing laser treatments can vary. There are essentially two stages of results: immediate and progressive. Immediately after your first laser treatment, your skin will feel smoother, look brighter and the tone will become evener. Your skin will continue to improve over the next six months as you have more treatments and the deeper layers of skin continue to improve.
Q: How long do the effects last?
A:
The results are long-lasting, but not permanent. The better you take care of your skin and protect it from the sun, the longer the results will last. You might need annual touch-up treatments to keep your skin looking its best.
Q: How much downtime should I expect?
A:
There is minimal downtime after a fractional resurfacing laser treatment. Right after the procedure, your skin will probably appear red and slightly swollen, but this will fade within 1-3 days. Many patients are able to cover up the redness the next day and return to work or daily activities. Additionally, many patients experience some skin peeling within the first week after the treatment. Using a moisturizer will help reduce the appearance of flaky skin.
Q: Does it hurt?
A:
Many patients compare laser resurfacing treatments to being snapped with a rubber band. To minimize the discomfort or pain a topical anesthetic is applied prior to the procedure. After the treatment, some patients experience a tingling sensation similar to that of a sunburn, but this normally goes away within a few hours.
Q: How much does fractional resurfacing cost?
A:
The cost varies depending on what laser is used and the size of the area that is being treated. We would be more than happy to give you a personalized treatment plan and cost estimate during a consultation with one of our expert laser dermatologists.
Promotions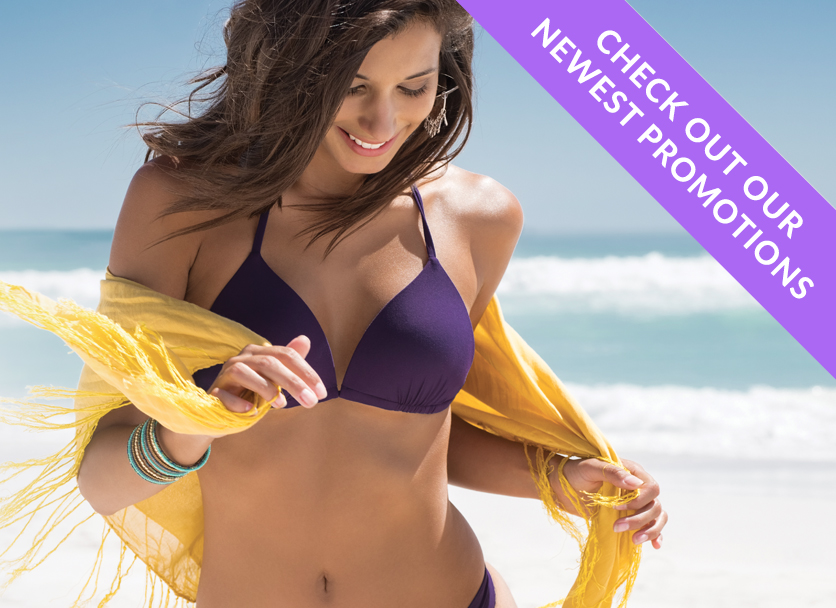 For more information about the monthly specials offered at Cosmetic Laser Dermatology in San Diego, visit our Promotions page.