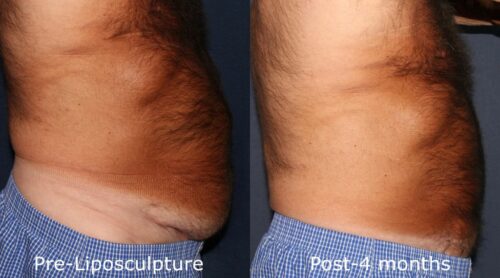 While liposuction is typically thought of to be a procedure performed exclusively on women, more and more men are undergoing liposuction in order to slim down and improve their overall appearance. As men age, it becomes harder to lose inches off the waistline and reduce fat in the torso using diet and exercise alone.
While the liposuction techniques generally do not differ between men and women, lipo for men addresses areas of the body that are of unique concern to men who desire fat reduction. With innovative non-invasive cosmetic procedures for men available that do not interfere with busy schedules, lipo for men is becoming increasingly popular.
At Cosmetic Laser Dermatology in San Diego, we offer several liposculpture techniques for men in order to help them get rid of stubborn fat.
What is Lipo for Men?
Lipo for men typically involves fat removal in the stomach, torso, love handles, and lower back as well as the neck, chin, and jowls. Men with large breasts caused by excess fat deposits are also likely to turn to liposuction treatments in order to return their breasts to a normal size.
Tumescent liposculpture is a great option for men with excess fat in their love handles, back and belly. This procedure involves the insertion of small cannulas into the fat layer in order to suction out the unwanted fat and sculpt the body into a more desire shape.
Male breasts can be treated with non-invasive CoolSculpting, which freezes and kills fat cells and allows the body to naturally eliminate them.
For the jowls, chin, and neck, the innovative CoolLipo laser liposuction works to not only melt away fat but also tighten the skin for a more defined profile.
Learn More About Lipo for Men by Scheduling a Consultation in San Diego Today
Lipo for men is now more convenient, effective, and socially acceptable than ever. If you are ready to say goodbye to stubborn fat that refuses to leave despite diet and exercise, contact the body contouring experts at Cosmetic Laser Dermatology at 858-943-2113 today.