Beautiful skin doesn't happen overnight. It's a lifelong process that requires the right care from a young age. That's why it's never too early to speak with a board-certified dermatologist about your current or future skin concerns.
At Cosmetic Laser Dermatology in San Diego our board-certified dermatologists know that skin ages sooner than you might think. One of the most common questions we get from patients is when they should start preventative treatments. The reality is that the sooner you start, the better your skin will look as you age. Taking preventative measures as early as your 20s can significantly impact how you age.
With over 50 laser, light, and energy devices, a wide selection of injectables and neuromodulators, and countless cutting-edge aesthetic treatments, our medical spa is well-equipped to care for all skin types. Speak with one of our leading skin care experts to see how you can prevent aging skin.
When Does Aging Start?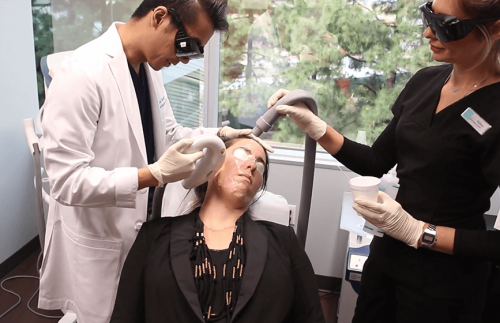 Nobody is immune to aging. Even the most flawless celebrities can't avoid the trials and tribulations of age. While we all start aging the moment we're born, its effects tend not to show on our skin until our mid-20s — typically around age 25. Unfortunately, many external factors, such as sun damage, poor diet, and certain lifestyle choices can accelerate the process. That's why it's important to care for your skin as early as possible.
In fact, the American Academy of Dermatology (AAD) recommends infant protection against ultraviolet (UV) radiation starting at birth. Protective clothing, like wide-brimmed hats and sunglasses, umbrellas and canopies, and minimizing direct sun exposure, are all great ways to protect infants against sun damage. After 6 months of age, all children and adults should wear mineral-based sunscreen with an SPF of at least 30 every day to protect their skin.
What Happens During the Aging Process?
To better understand the aging skin process, it's important to recognize the components that make up our skin. Collagen, elastin, and hyaluronic acid are substances that bind our connective tissues. Collagen fibers provide the foundation for elastin and hyaluronic acid, which keep our skin resilient and hydrated. As we age, new collagen production declines while existing fibers break down. Reduction of collagen, elastin and hyaluronic acid is the primary reason why skin becomes thinner and drier with age. Without ample elasticity, skin wrinkles instead of bouncing back like it once did. 
There are two types of wrinkles that form with aging: dynamic and static wrinkles.
Dynamic Wrinkles
Dynamic wrinkles are the result of repeated muscle movement. Facial expressions, such as frowning, smiling, and squinting, can cause the skin to crease. 
Common dynamic wrinkles in aging adults include:
Crow's feet

Frown lines

Forehead lines

Bunny lines

Lip lines
Neuromodulators, like Botox®, Dysport®, Juveau(R),  or Xeomin®, can temporarily prevent muscle movement to minimize fine lines and wrinkles. However, they may not be as effective in treating deep creases and folds. By starting these treatments early, you can inhibit muscle movement in potential problem areas to delay wrinkle formation. 
Static Wrinkles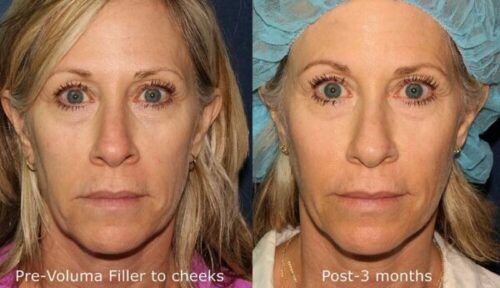 Static wrinkles are caused by fat and volume loss. With the loss of collagen, elastin and hyaluronic acid as well as fat, bone and muscle,, skin starts to sag, leading to skin and fat collection around the bottom half of the face. After age 35, the number of cells responsible for bone regeneration also reduces, which can cause poor facial definition. This is especially true during menopause, when women typically experience a sharp decline in the hormone estrogen.
Once the skin starts to sag, it can develop static wrinkles, such as:
Jowls

Poor jawline definition

Hollow cheeks

Sunken eyes

Thin lips

Chin dimples
Dermal fillers — gel-like substances that restore lost volume — are highly effective at instantly lifting and plumping saggy skin. But another benefit of fillers is that they actually stimulate collagen production. In fact, preventative fillers can help your skin combat wrinkles for years to come.
Since neuromodulators and dermal fillers treat different types of wrinkles, your dermatologist at Cosmetic Laser Dermatology can combine the treatments for comprehensive anti-aging.
Starting Early: What are the Options?
When it comes to aging skin, prevention will always trump treatment. By caring for your skin now, you can delay many common signs of aging, including wrinkles, volume loss, and sun damage. While sunscreen is always the top line of defense, there are also treatments that can ward off agin signs and sun damage, to keep your skin younger for longer. Fortunately, Cosmetic Laser Dermatology in La Jolla offers several noninvasive and minimally invasive anti-aging treatments, including:
Dermal fillers:

Injectable fillers

, like Juvederm®, Restylane ® and RHA (r)  can help treat early volume loss and prevent new wrinkles from forming.

Neuromodulators:

Neuromodulators, like Botox Cosmetic, Dysport, Jeuveau, and Xeomin, treat and prevent expression lines around the mouth, eyes, and forehead.

Biostimulators:

Scupltra and Radiesse not only replace volume loss of the skin, they also stimulate your body's natural production of collagen and elastic fibers giving natural results that last years. 

IPL therapy:

IPL therapy can reduce the early signs of sun damage, such as hyperpigmentation, age spots, redness, and fine lines. It also minimizes the appearance of acne scars and rosacea.

Fractional lasers:

Fractional

lasers

target small portions of skin to reduce wrinkles, hyperpigmentation, and even stretch marks through collagen stimulation.

RF microneedling:

Microneedling devices contain hundreds of hair-thin needles that puncture the skin to trigger the body's healing response. This process stimulates collagen production to repair skin damage. Simultaneously, the device delivers waves of radiofrequency (RF) energy that firms and tightens skin.

Topical aesthetic treatments:

The surface layer of the skin incurs the most damage, so it's important to keep it healthy. In addition to

aesthetic treatments

, like facials and chemical peels, Cosmetic Laser Dermatology offers advanced

skin care products

from SkinCeuticals®, SkinMedica®, Calecim®, Neocutis®, Isdin, and Topix.
Treat Your Acne, Prevent Aging Symptoms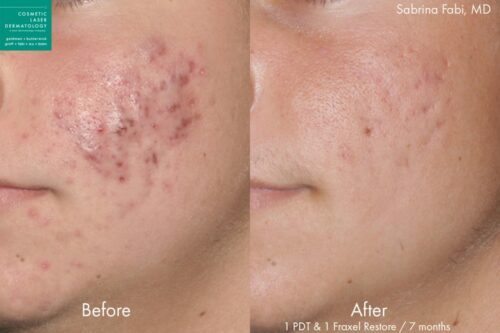 While plummeting estrogen levels dry out skin and cause wrinkles in older adults, overactive androgen levels increase sebum production in teenagers. This oily substance clogs pores and causes acne. If you are a young adult fighting pimples rather than wrinkles, you will be happy to discover that many popular acne treatments can also help fight the effects of aging. 
Topical Retinoids
Prescription retinoids can help prevent dead skin cells from clogging pores to reduce acne. These topical treatments also stimulate new blood vessels, cell turnover, and collagen. Over time, regular retinoid use may minimize fine lines, prevent wrinkles, and reduce the appearance of brown spots, especially on the arms and hands.
Photofacials/Photodynamic Therapy
Photofacials use intense pulsed light (IPL) with the addition of selective sebum reducing agents (aminolevulinic acid) to target acne deep within the skin. The treatment uses short pulses of broad-spectrum light to penetrate the skin without disturbing the surface layer. Pigment cells in the skin then absorb the light, which converts to heat and eliminates acne, redness, hyperpigmentation, and even age spots.
Studies show that just three IPL treatments can alter gene expression in aging skin, which may result in younger-looking skin. In addition, 1-3 Photodynamic Therapy treatments not only minimize your oil glands to treat acne, but also prevents the development of skin cancer changes in the skin.
Why Choose Our Medical Spa for your Preventative Care?
Cosmetic Laser Dermatology has a team of board-certified dermatologists that can prevent and treat a broad range of skin concerns, from stubborn acne to deep wrinkles. Our dermatologists are leading experts in the field with more than 100 years of combined experience.
To schedule a consultation with one of our world-renowned dermatologists, contact our medical spa in San Diego today.