Jeuveau® is a neuromodulator that uses the same protein as Botox® to treat dynamic lines and wrinkles. It is becoming a more widely known and used treatment due to its innovative technology and highly-effective results.
How Does Jeuveau® Work and What Are the Benefits?
Jeuveau is an FDA-approved neuromodulator that is injected into specific facial muscles to treat lines and wrinkles on the face and neck. It contains the same active ingredient as Botox® Cosmetic. Jeuveau uses a highly purified form of the ingredient that effectively targets muscles to relax the muscle and reduce some facial wrinkles. It treats lines formed due to repeated movements like frowning or laughing. Jeuveau can be used for the following:
Horizontal lines on the forehead
Vertical lines between the eyebrows (glabellar lines, frown lines, 11s)
Fine lines that fan out from the eye (crow's feet)
Jeuveau is injected into the muscle, affecting communication between the nerve and muscle to minimize the effects of repeated facial movements. This action helps soften lines and prevents new lines and wrinkles from forming. It is a temporary treatment and requires routine follow-up to maintain results. Jeuveau has many cosmetic benefits, including:
Fewer lines and wrinkles
Improved appearance
Fast and effective results
Prevention of new lines
Minimal discomfort and downtime afterward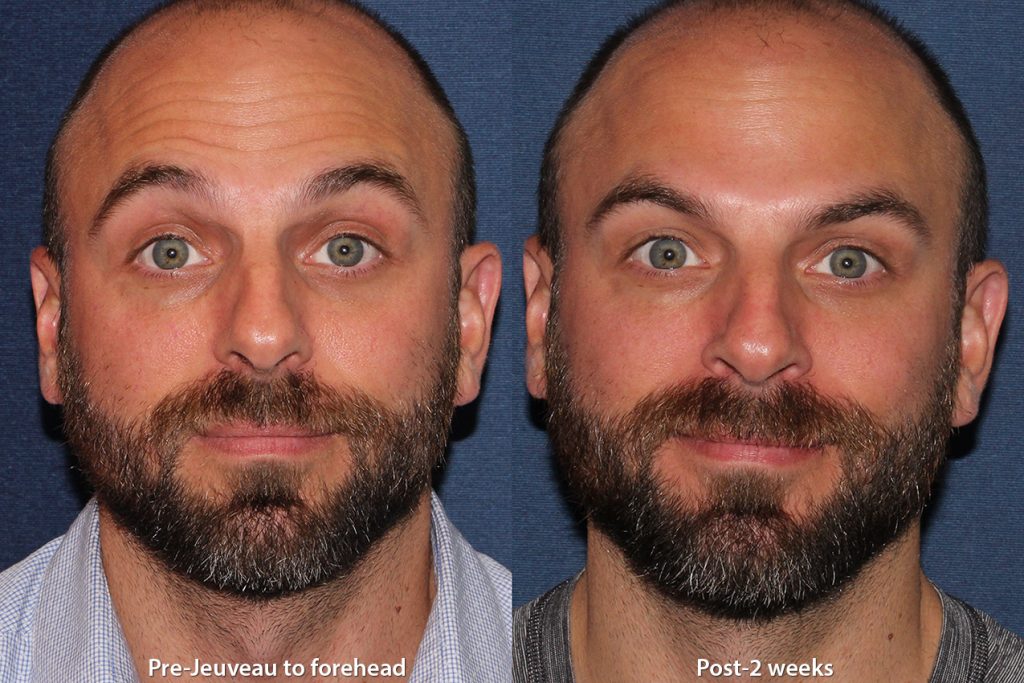 How Long Do the Results Usually Last?
Many individuals see results within 24 hours, although it can take up to two weeks for the muscles to respond and full results to develop. Once your improvements become evident, they can last from 3-6 months. Jeuveau is not a permanent solution and requires regular follow-up treatments to maintain your desired appearance. Several factors impact how long results last, including:
Facial movement: The more movement in the treatment area, the greater chance the muscle will metabolize the treatment more quickly.
Amount of product administered: Higher amounts of Jeuveau can lead to longer-lasting results, although too much Jeuveau will lead to an unnatural outcome.
Injection location: Targeting the right muscles is key to a successful treatment.
What Are the Costs Associated with the Treatment?
The cost of a Jeuveau treatment is similar to other neuromodulators like Botox® Cosmetic, Xeomin(R), and Dysport®, although it is often less expensive than its more popular counterparts. Pricing is dependent on how many areas you want to be treated and how much Jeuveau is needed in the target areas to achieve the desired results. An experienced, board-certified dermatologist will work with you to create your customized treatment plan and associated costs before administering services.
What Are the Risks Involved with Jeuveau® Treatments?
Jeuveau is an FDA-approved treatment option to reduce and prevent facial lines and wrinkles. There are possible side effects with any neuromodulator, but they are uncommon in most patients. Any side effects can be expected to dissipate within a day or two after treatment. Possible side effects of Jeuveau include:
Swelling
Redness
Bruising
Pain or discomfort
Irritation
Inflammation
Headache
Who Would Be a Good Candidate for Jeuveau® Treatments?
Anyone with facial lines and wrinkles is a candidate for Jeuveau. Patients that have received Botox or other neuromodulators in the past can also use Jeuveau. It can also be used in combination with other skin rejuvenation treatments and procedures. Patients with an allergy to the active ingredient, neuromuscular conditions, or who are pregnant are not candidates for Jeuveau treatments.
Injectables and safe and highly effective when administered properly. A skilled and experienced dermatologist must inject the correct amount into the right area for natural and safe results. Working with an expert ensures a safe procedure and an optimal outcome.
Jeuveau vs. Botox
Botox is an extremely well-known injectable with decades of proof of its safety and efficacy in both the medical and cosmetic realms. While Jeuveau has promising trials, it is not as well known yet. Botox and Jeuveau are similar products with key differences:
Formulation: Jeuveau is made with innovative Hi-Pure™ technology to remove proteins and make it more absorbable for faster and possibly longer results.
Uses: Both neuromodulators are practical options for reducing lines and wrinkles, but Botox has medical and cosmetic uses, while Jeuveau is only approved for cosmetic use.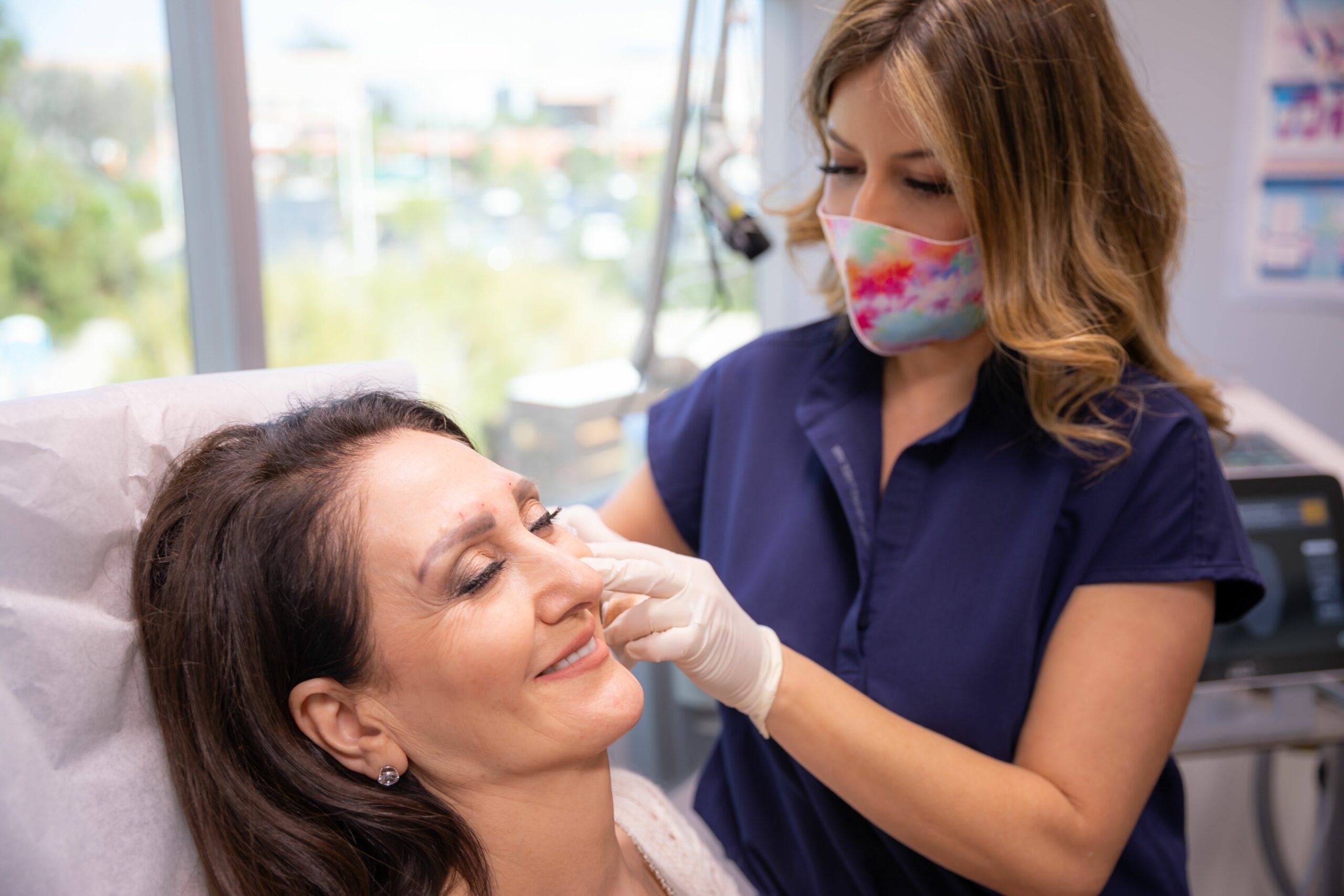 Comparing neuromodulators is often like comparing Coke and Pepsi – the differences are subtle and only expert injectors can determine which injectable will suit the individual needs and goals of each patient best.
Learn More About Your Injectable Options in San Diego Today
At Cosmetic Laser Dermatology, our seven board-certified dermatologists perform all our injectable treatments. With more than 125 years of combined experience, you can rest assured you are in the best possible hands no matter what your needs and goals might be. To learn more about our selection of neuromodulators, including Jeuveau, contact our San Diego office today.