When you look in the mirror and see sagging skin, do you wonder if there is an effective skin tightening procedure to address the problem? Maybe you are considering a non-invasive or minimally-invasive treatment that addresses early jowl formation along the jawline, or reduces the appearance of fine lines and wrinkles around the nose and mouth.

Here's the good news – skin-tightening procedures can be both safe and effective, restoring your youthful vibrancy once again. At Cosmetic Laser Dermatology, our board-certified dermatologists offer more than 50 laser and energy devices, and many of those treatments can be used to address early signs of skin laxity. Contact us at our San Diego medical spa at 858.943.2113 today.
Can Loose Skin be Tightened?
In many cases it can. While severe skin laxity may see best improvement with surgical procedures like a facelift, there are also many non-surgical options that produce noticeable results, often with less downtime.
At Cosmetic Laser Dermatology, we offer a variety of treatment options that allow us to customize your treatment plan for the most natural, beautiful results.
Our Proprietary Skin Tightening Solution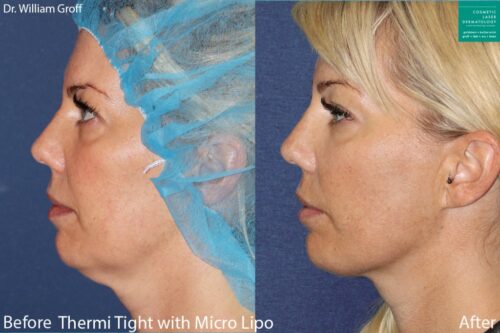 For patients that are concerned about sagging skin and the accumulation of submental fat under the chin and along the jawline, Cosmetic Laser Dermatology offers a unique solution.
Our proprietary ThermiSculpt³ procedure combines fat removal via liposuction with non-surgical skin tightening with ThermiTight to create a lifted, more contoured jawline.
The treatment can be done using local anesthesia and downtime is just a few days.
Non-Invasive Skin-Tightening Procedures
Non-invasive skin-tightening procedures work on the surface of the skin to deliver energy that heats the tissue deep beneath the surface. The heat works at a cellular level to stimulate collagen production, which firms and smooths skin from the inside out.
Patients may experience some redness and swelling after treatment, but side effects are generally minor and temporary. We use the following types of devices for our non-invasive skin tightening: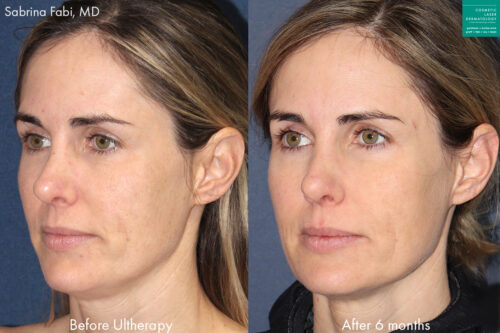 Ultrasound – Ultrasound energy heats the tissue far beneath the skin's surface to the connective tissue, where it can have the greatest effect. We use both Ultherapy and Sofwave for our ultrasound treatments.
Radiofrequency – Radiofrequency energy works in a similar fashion to ultrasound, but does not tend to penetrate as deeply into the dermal tissue. Thermage is a popular, non-invasive radiofrequency skin tightening treatment.
Laser Treatment – Non-ablative laser treatments also send gentle heating into the lower dermal layers, constricting tissue and stimulating collagen production without affecting the outer dermis. Our medical spa offers a wide variety of lasers to stimulate skin rejuvenation and to reduce the appearance of fine lines from the "Take 10" procedure utilizing multiple ablative lasers to the Clear & Brilliant using mild non-ablative lasers.
Minimally-Invasive Skin Tightening Procedures
Minimally-invasive skin tightening procedures produce better results than non-invasive skin-tightening treatments, but also require more downtime afterward. Our choices in minimally-invasive skin tightening devices include: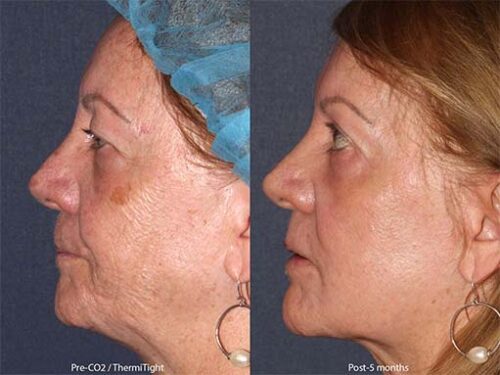 Radiofrequency – Radiofrequency energy is delivered deeper into the dermal tissue via a thin tube to heat the lower layers. Our ThermiTight device is an effective tool for contouring the jawline or tightening multiple areas of the body.
Laser Resurfacing – Fractional laser resurfacing creates micro-channels in the skin that stimulate the body's healing processes and collagen production. The procedure depth can be customized based on the specific needs and goals of each patient.
What is the Best Treatment for Skin Tightening?
Ultherapy
FDA-cleared for skin-tightening of the brow, chin, neck, and chest, Ultherapy® is a good choice for the face, neck, and some areas of the body.
Ultherapy delivers ultrasound energy into the deepest dermal tissue, to produce noticeable tightening over time. Patients will see results continue to improve for up to six months and may be long-lasting.
ThermiTight
Effective and long-lasting, ThermiTight® is a non-surgical skin-tightening treatment that does not leave scars and has manageable downtime. Microcannulas deliver radiofrequency energy deep into the dermal layers to stimulate your body's collagen production.
ThermiTight is good for the neck, breasts, chest, arms, abdomen, thighs, and knees. We often combine it with liposculpture to create more dramatic results.
Thermage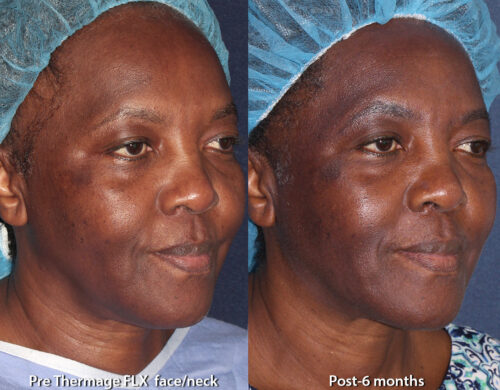 Thermage® is a non-invasive radiofrequency (RF) procedure that smooths and tightens skin to create a more youthful appearance.
Results from a Thermage treatment appear in two to six months and may last one to two years, depending on your skin condition and aging process. Additionally, only a single treatment is necessary and results get better over time.
This procedure is particularly effective around the delicate areas of the eyes, producing a non-surgical eyelid lift for the right patient.
Sofwave
Sofwave is an ultrasound treatment that is safe for all skin types and tones. It is effective in treating mild skin laxity on the face and neck and may reduce the appearance of fine lines. There is no downtime after a Sofwave treatment and results continue to improve for up to three months after your procedure.
RF Microneedling
Radiofrequency microneedling is used to treat fine lines and wrinkles, as well as some types of scarring. The treatment combines microneedling with radiofrequency heating to produce a superior result. Microneedles create micro-channels in the skin, delivering the RF energy deep into the tissue to stimulate collagen production and create a smoother skin surface.
Laser Resurfacing
Laser resurfacing is the most effective procedure for laser skin-tightening. This procedure may utilize an ablative laser that removes precise layers of skin to accelerate the anti-aging effects.
Ablative fractional layers remove those layers while creating micro-channels to amplify the healing process and significantly turn back the clock on your appearance. Depending on the depth of the procedure, this treatment may require 1-2 weeks of downtime.
What is the Newest Skin Tightening Procedure?
Skin tightening treatments continue to evolve for the benefit of our patients. Today, we often use a combination approach to produce even better results. For example, our proprietary ThermiSculpt³ combines liposuction with ThermiTight to treat a double chin and create a smoother jawline contour.
Our Take 10 is a combination of lasers used to address even more advanced signs of aging, taking up to 10 years off your appearance without incisions or post-treatment scarring.
How Can I Tighten My Skin Fast?
While patients are always anxious to see the results of their skin tightening treatments, the most effective procedures work at a cellular level to improve the appearance of the skin over time.
The advantage of these treatments is that the results are natural and tend to last longer than your quick fixes.
We encourage patients to be patient with their skin tightening efforts, knowing the results will be worth the wait.
How Can I Tighten My Face Skin at Home?
While there are many different options available for skin-firming creams and lotions you can apply at home, none will give you the dramatic improvement of a professional treatment.
We often recommend that you support your procedure with medical-grade products at home, since this can enhance the healing process and extend your results.
Daily sun protection is also a must to keep your skin in top condition and prevent early aging symptoms like skin laxity.
Schedule Your Skin Tightening Procedure at Our Medical Spa Today
Are you ready for a refresh? We have many treatment options to address skin laxity and other aging symptoms to rejuvenate your appearance. Contact us today to learn more about your skin tightening treatment options.