While lines and deep wrinkles are a natural part of aging, Cosmetic Laser Dermatology in San Diego makes them optional. We offer a wide variety of lasers that allow our board-certified dermatologists to tailor personalized treatments for every patient looking to improve the appearance of their deep facial wrinkles.
What Are Deep Facial Wrinkles, and What Causes Them to Form?
Wrinkles are lines, creases, and folds that naturally form on your skin over time. Due to aging and external factors, some of these wrinkles can become deep furrows that are more noticeable around the eyes, mouth, and neck.
The smoothness of your skin is largely attributed to the health and quantity of collagen in your skin. Collagen is a protein that serves as a main building block of the skin, playing a key role in the skin's structure, elasticity, and hydration. As you age, the production of collagen slows down, robbing the skin of its firmness and leading to the formation of lines and wrinkles. Left untreated, wrinkles increase in number and depth over time.
Sun exposure is the largest contributor to aging skin. Frequent and prolonged sun exposure damages the skin's collagen and elastin fibers, resulting in wrinkles, volume loss, and sagging skin. Deep facial wrinkles and other signs of aging are also affected by the following factors:
Muscle contractions (repeated facial expressions like smiling and squinting can cause lines and wrinkles)
Type, quality, and consistency of skincare
Stress
Injury
Diet and other lifestyle habits
Smoking
Sleeping position
Genetics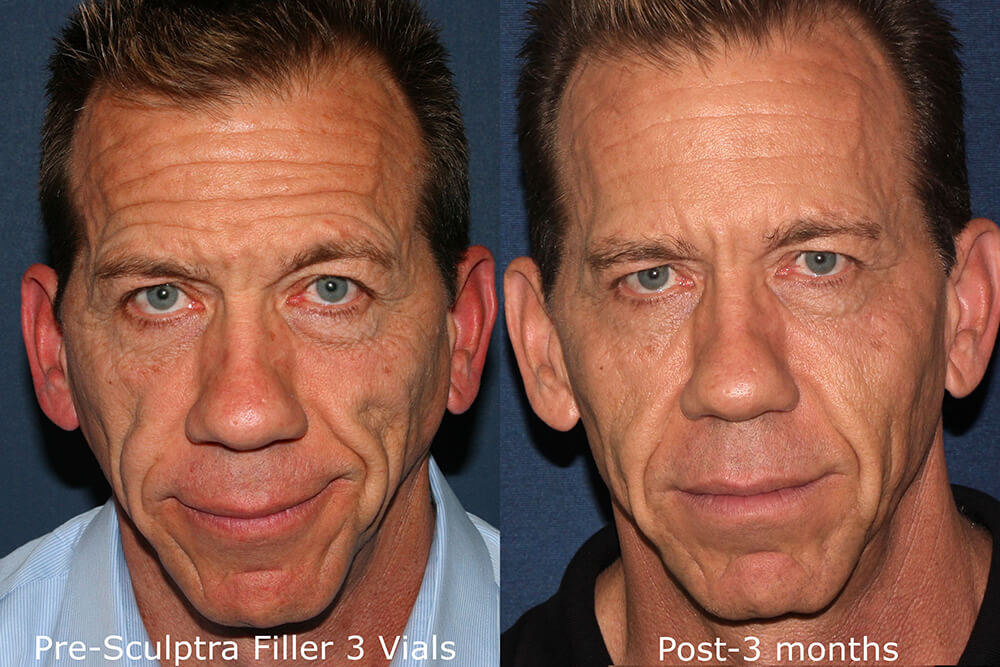 What Are the Treatment Options for Deep Facial Wrinkles?
If you have deep facial wrinkles, or if you want to prevent them from forming in the first place, a treatment plan that combines wrinkle removal with skin tightening can be the best solution.
Achieve smoother, younger-looking skin with the following procedures:
Injectables
Injectables are a non-surgical way to reduce the appearance of lines and deep furrows. Neuromodulators and dermal fillers are two different types of injectable treatments used for this purpose.
Botox® Cosmetic is a neuromodulator that addresses wrinkles caused by repeated facial expressions by temporarily blocking chemical signals that cause muscles to contract. The injected muscle relaxes and as a result, smooths the skin and makes wrinkles less visible. Other popular neuromodulators include Dysport®, Xeomin®, Jeuveau®, and Daxxify®.
Dermal fillers like Juvéderm®, Restylane®, and RHA® consist of hyaluronic acid (HA), a natural substance found in the body that is responsible for the skin's plump and hydrated look. When injected, these fillers restore volume to fill in lines and folds, creating a smoother and lifted appearance.
Biostimulatory agents like Sculptra® and Radiesse® also work well for deep wrinkles. These injectable treatments stimulate the body to increase the production of collagen and elastin fibers to create smoother, wrinkle-free skin from the inside out.
When combined, Botox and neuromodulators, biostimulators, and fillers can produce a non-surgical or "liquid' facelift.
Fraxel
Fraxel lasers are fractional devices designed to create micro-injuries in the skin to trigger the body's natural healing process and boost collagen production. The lasers create microchannels deep into the dermal layers while leaving the surrounding skin intact. The result is clearer, smoother, and more youthful-looking skin. Examples of Fraxel lasers are:
Fraxel® Re:pair – A type of fractional CO2 laser resurfacing device that breaks the treatment area into zones, penetrates the dermis, and resurfaces the outermost layers of skin.
Fraxel® Restore Dual – This laser offers two settings (1927 and 1550 wavelengths) to rejuvenate the surface layer of the skin and treat lines and wrinkles by stimulating collagen production in the skin's deeper layers.
ResurFX™: This skin resurfacing device is a non-ablative fractional laser that addresses concerns like wrinkles and collagen loss in a single treatment. This procedure produces refreshed, more youthful skin without significant discomfort or downtime.
Active/Deep FX
Active/DeepFX lasers offer fractional CO2 resurfacing to treat deeper facial wrinkles and severe textural issues caused by sun damage.
DeepFX™ provides a deeper micro-ablative treatment to address deeper facial wrinkles, while ActiveFX™ offers a large superficial spot treatment to target sun damage and irregular skin tone and texture. When combined, these lasers achieve optimal results in collagen production and skin resurfacing in a single treatment. 
According to a study, a macrophage-activating gel may further improve healing and skin quality after CO2 laser resurfacing.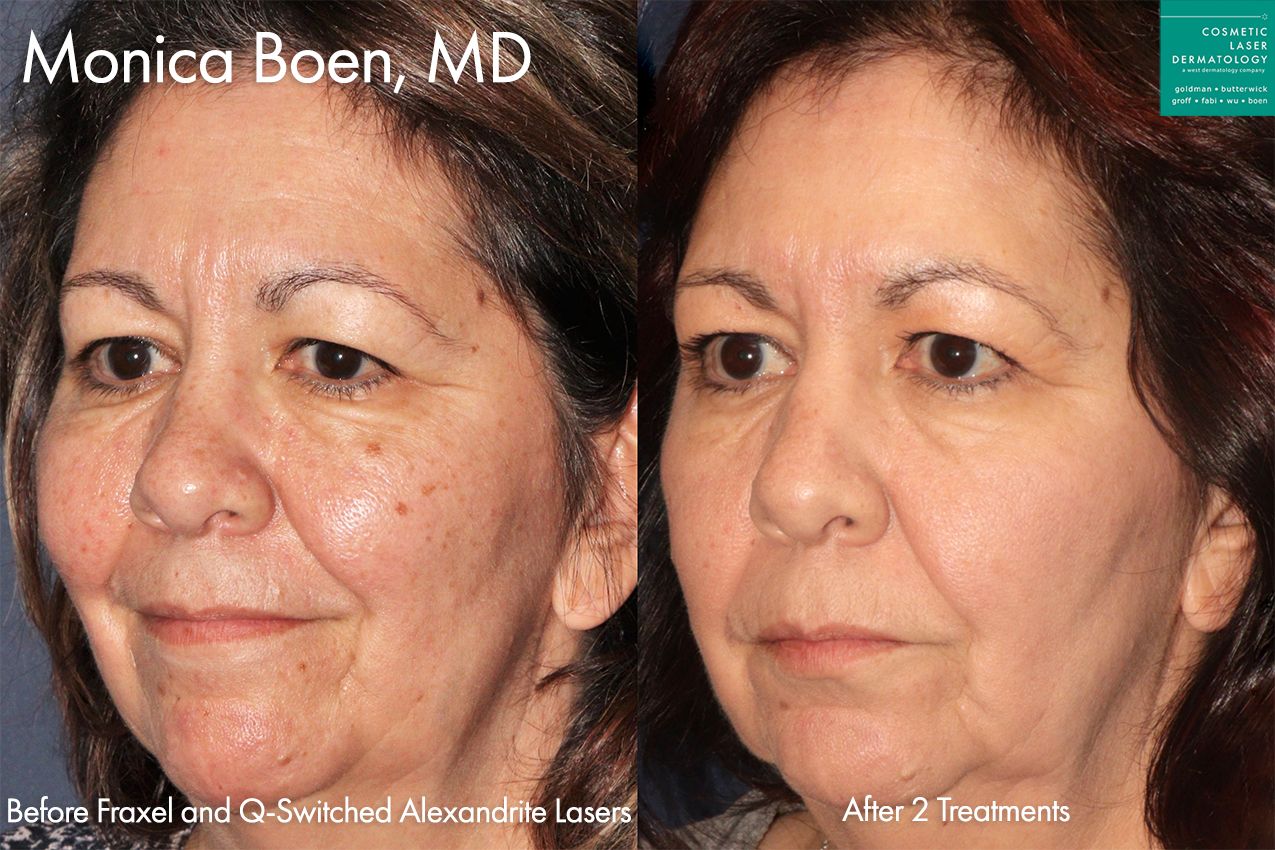 Lumenis UltraPulse
The UltraPulse® is an ablative laser that uses high-power, short-duration pulse technology to effectively treat a wide range of skin conditions by gently removing precise skin layers. The body's natural skin regeneration process replaces the damaged skin with new and healthy tissue. It effectively treats lines, wrinkles, and sun damage.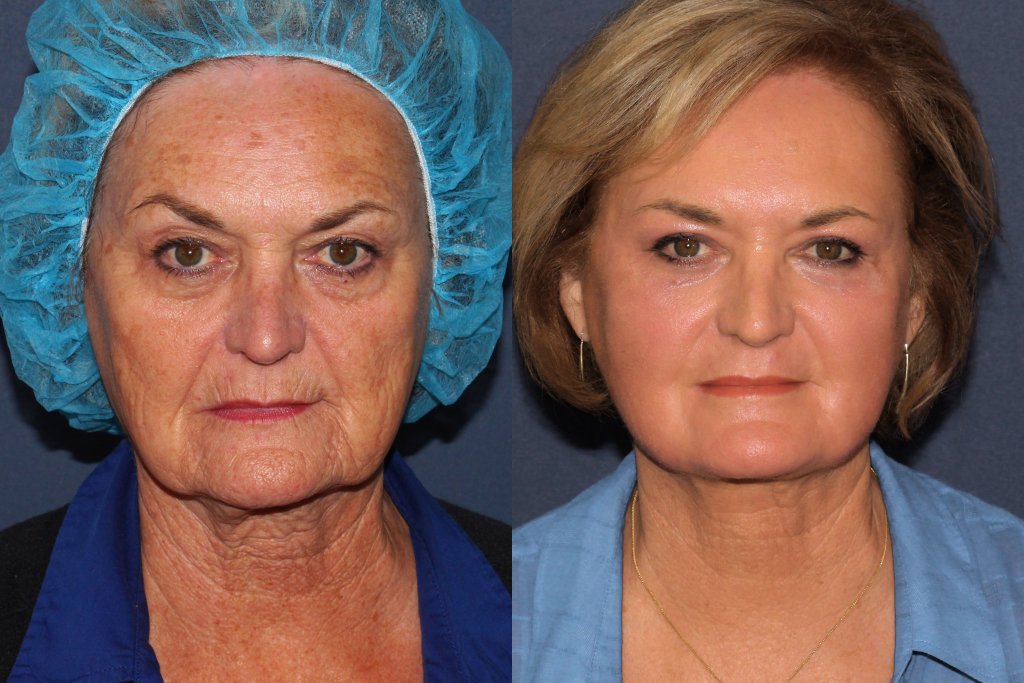 Take10
Exclusively offered at Cosmetic Laser Dermatology, Take10 combines three or more lasers to take 10+ years off your appearance in a single treatment.
A Take10 treatment may include the following options:
Fraxel Re:pair
UltraPulse and Erbium lasers
Alexandrite TriVantage
Vbeam Perfecta
Alexandrite and YAG lasers
Active/Deep FX lasers
Sciton Er:YAG laser
Intense Pulsed Light
A variety of skincare products that stimulate further collagen formation from SkinMedica, Alastin, Calecim, and more
How To Choose the Right Treatment for Your Skin
The best laser treatment for deep facial wrinkles will depend on the quality of your skin and the severity of your wrinkles. We can assess your skin to determine the right treatment to help you meet your aesthetic goals.
Our board-certified dermatologists in San Diego carefully craft wrinkle-reduction procedure plans that are individually tailored to address our patients' needs.
How Can You Prevent Deep Facial Wrinkles?
While aging is a fact of life, and we cannot control all the factors that cause the skin to age, there are things we can influence to slow its effects. To prevent deep facial wrinkles and premature aging, we recommend the following tips:
Wear sun protection daily to prevent sun damage
Avoid using tanning beds
Regularly moisturize the skin
Clean the skin gently (always remove makeup)
Don't smoke
Drink plenty of water to stay hydrated
Eat a healthy, well-balanced diet
Drink less alcohol
Exercise regularly
Use professional-grade anti-aging products
Schedule A Consultation At Cosmetic Laser Dermatology in San Diego
Ready to address those deep facial wrinkles? Cosmetic Laser Dermatology offers plenty of treatment options. Our team of board-certified dermatologists are ready to provide a custom treatment plan that works best for you.
We often combine one of our 60+ lasers with injectables to provide more comprehensive anti-aging results. For example, Cosmetic Laser Dermatology's proprietary Take10 treatment offers a non-surgical alternative to a facelift. By combining multiple laser treatments with injectable dermal fillers and neuromodulators, patients may take 10+ years off their appearance. Contact us today to discover how to get rid of deep facial wrinkles and the many advantages of lasers and injectables.