Over the course of the past few years, an old style trend has seem to come back to life—the leggings. Of course, leggings are extremely comfy, can be worn with just about anything, and even dressed up or dressed down. With all of the positives to leggings, they almost seem too good to be true, right?
Right. According to research, doctors are now warning that leggings may actually be making us fatter and with flabbier legs and stomachs without us even knowing. But how could this be? Because leggings are somewhat tight, they actually hold us in with a firm grip, which is supposed to be the job of our muscles. This in turn makes our muscles lazy and relax, which means they won't be as firm as they would be outside of leggings.
To make sure that the muscles in our legs and stomach don't become overly lazy, it may be a good idea to cut down the number of times we wear leggings each week, and to continue to keep a routine workout schedule.
CoolSculpting For Stubborn Stomach Fat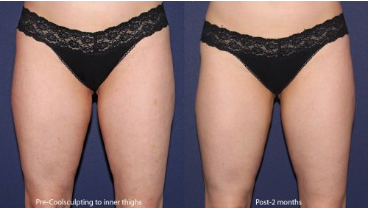 If you feel like you have an area of stomach fat that just doesn't seem to go away with diet or exercise, new CoolSculpting technology may be just what you're looking for. CoolSculpting works by actually freezing your fat, which causes your body to absorb the cells naturally. Natural fat absorption allows for the patient to experience minimal to no pain, as well as results that continue to appear even after the treatment is over. At Cosmetic Laser Dermatology in San Diego, our expert dermatologists perform CoolSculpting as an in-office body contouring procedure that usually takes less than one hour to complete. Final results of CoolSculpting can be seen over the course of the next several months as your fat cells continue to be absorbed and die off as a result of the procedure.
One of the most appealing parts of CoolSculpting is that the treatment requires no downtime, and is perfect for individuals on the go as you're able to return to your daily activities immediately. To determine whether or not CoolSculpting might be a good treatment for you, we encourage you to schedule an appointment with our doctors today.
Contact Our San Diego Office Today
If you're starting to notice an extra bulge around your stomach, contact our cosmetic laser dermatologists today to learn more about how we can help you overcome excess fatty areas with new CoolSculpting technology. To schedule your initial consultation with us today, call (858) 943-2113. Our team of world-renowned board-certified dermatologists have the necessary experience and knowledge required to help you achieve amazing and natural results.
To learn more about CoolSculpting and how it may be beneficial to you, please contact Cosmetic Laser Dermatology in San Diego today.