Torrey Pines is a charming little coastal community situated in the northern region of San Diego and bordered to the north by the city of Del Mar and the south by La Jolla. With its abundance of lagoons, wetlands, sandstone bluffs, and Torrey Pine trees, Torrey Pines offers a unique environment that attracts both visitors and home buyers.
The Torrey Pines Neighborhood
The thriving Torrey Pines community occupies approximately 2,600 acres with 42% of its area designated for parks and open space and 24% for residential development. The residential neighborhoods are centrally located in the Del Mar Terraces and Del Mar Heights area. Torrey Pines is home to many luxury single-family homes with spectacular oceanfront views and a small section of residences situated on the bluffs of Torrey Pines Road. Because of its beautiful and strategic location, beaches, good food, and plenty of activities are within easy reach.
Torrey Pines Restaurants
Whether in the mood for basic So-Cal cuisine or a fancy steak dinner, restaurants around Torrey Pines and La Jolla won't disappoint.
Serving some of the best steaks in San Diego, Ruth's Chris Steak House has perfected the broiling method and seasoning techniques that make each cut of USDA Prime beef tender, juicy, and sizzling on a 500° plate. In addition to steaks, diners can also enjoy their New Orleans-inspired appetizers, fresh seafood, and homemade desserts.
For that quintessential California oceanfront dining experience, Jake's Del Mar fits the bill. Chef-driven coastal fare such as ahi poke bowl, seafood chowder, and fish & chips that use fresh, seasonal ingredients are served with refreshing craft cocktails just steps from the ocean waves.
Its long queues from 4-8 pm every day of the week is enough declaration of how good the food is at The Taco Stand. The family-run business serves Tijuana-style tacos made of handmade tortillas, top-of-the-line meats, and other fresh ingredients. Diners can even finish their carne asada, pollo asado, or Baja tacos with a Mexican popsicle or churro for dessert.
Things to Do
Being in an oceanside neighborhood with beautiful landscapes waiting to be explored, locals and visitors will never run out of things to see and do in Torrey Pines.
Those who live near the area are lucky to be just minutes away from Torrey Pines State Beach. Whether looking to surf, swim, or simply relax on the beach, this is a great spot to spend the day.
For golf enthusiasts or those looking to get into the sport, Torrey Pines Golf Course offers two 18-hole golf courses. Torrey Pines Golf Course has won numerous awards, including "America's Best Municipal Course," as well as "Top Rated Golf Courses in California. "
Torrey Pines State Natural Reserve is a preserved piece of land that provides picture-perfect views of the ocean and its surrounding cliffs. It is open to the public during the day and guided hiking tours are available to visitors. Nature lovers will enjoy the many rock formations, sandstone canyons, and native pine trees within the park.
Medical Spa in Torrey Pines
The board-certified dermatologists at our medical spa offer many types of procedures to patients from Torrey Pines. These procedures can treat a wide variety of conditions such as wrinkles and fine lines, loose skin, sunken cheeks, or brown spots in the face. Anyone visiting Torrey Pines or even locals, are encouraged to consider visiting to refresh their overall appearance.
Treatments Offered:
Schedule a Consultation with a Dermatologist in Torrey Pines
Our board-certified dermatologists are experts at performing a wide range of non-surgical dermatology treatments, and we are always accepting new patients to join our community. To learn more about the cosmetic dermatology services of Cosmetic Laser Dermatology in San Diego, CA, contact us or fill out our online contact form.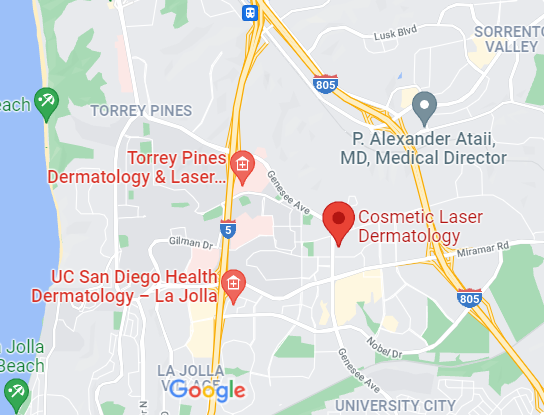 Click here to see additional locations we serve.